How I Boost my Immune System
My approach to staying healthy during these weird times is simple:
I eat healthy food (home-cooked organic meals)
I move (calisthenics, kettlebells, stand-up-paddling)
I go out for a walk and get some sunshine
3 daily supplements that each come with multiple benefits
My 3 Favorite Supplements These Days
Instead of taking 100s of pills everyday I chose 3 specific supplements that each are (one of) the bests in the category:
Ojai Energetics – Full Spectrum Hemp Elixir (CBD)
New Chapter – 40+ Every Man's One Daily Multi
Neurohacker Collective – Eternus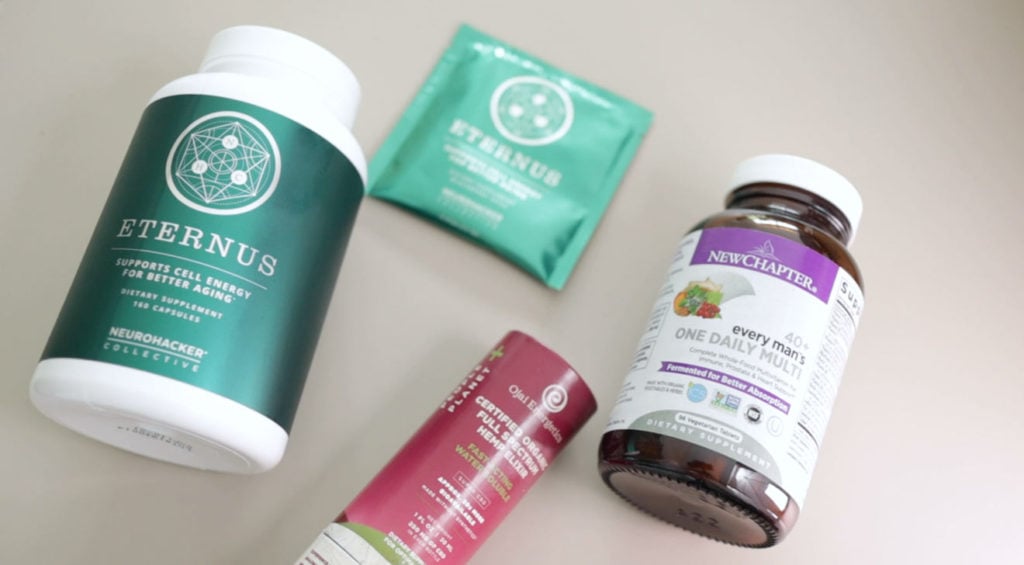 Water-soluble Organic CBD
This CBD is unique. Water-soluble, 20x higher bioavailability than standard CBD oil and made without synthetics. The Ojai Energetics – Full Spectrum Hemp Elixir comes with 3 benefits:
I take one dropper full in a glass of water 1 – 2 hours before sleep. You can read my full review on Ojai Energetics' CBD here.
The Best Men's vitamin?
This multivitamin includes 20 vitamins and minerals from fermented media plus 16 fermented extracts from different organic plants like pumpkin seeds, ginger, and turmeric. There is also a women version available.
Supports my immune system with vitamins that are high in bio-availability due to the fermented media
Very good value for money (less than $ 0.70 a day)
I take one New Chapter – 40+ Every Man's One Daily Multi capsule with lunch.
Keep Your Cells Fit and Healthy
Neurohacker's Eternus (now called Qualia Life) is a supplement based on complex systems science. It is formulated to boost cellular energy, generate NAD+ and upregulate sirtuins. So basically to keep your cells fit and healthy.
It contains 35 active ingredients to keep my cells fit and healthy. My tip: Get the capsules – The power does not taste that good. The capsules are tasteless.
Make sure to use my Neurohacker discount code if you order Eternus.