Qualia Life, previously branded as Eternus by Neurohacker Collective, is a supplement that claims to beat aging and stress. I tested Qualia Life for the last 3 months and here is my experience.
What is Qualia Life?
Qualia Life is a supplement that is designed to support better aging of the human body. It claims to upregulate NAD+ and ATP in a very sustainable way. Qualia Life boosts NAD+ via 3 different pathways and helps the body to continually produce NAD+. Other supplements/anti-aging products boost just the NAD+ molecule itself.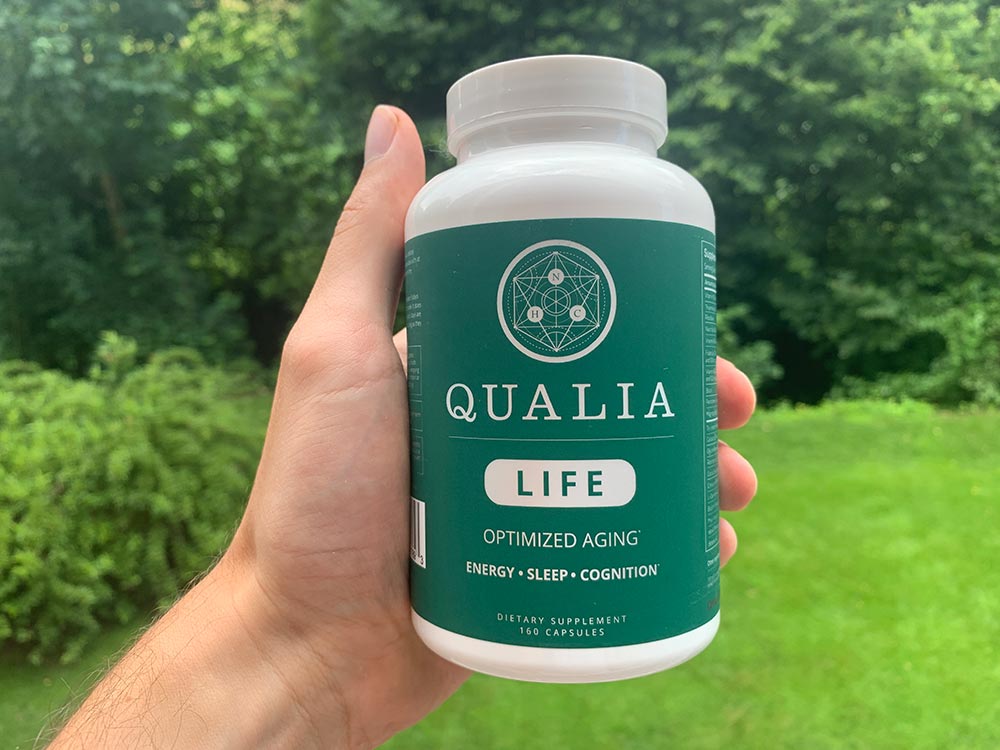 The Formulation behind Qualia Life
In this video, I interviewed Dr. Greg Kelly, who is the lead formulator behind Qualia Life. Greg explains the concept behind Neurohacker products and Eternus (Qualia Life's old name). If you wanna go really deep and understand the Qualia products and how they work in your body, watch the whole video from the beginning.
Qualia Life Ingredients
Qualia Life uses 33 active ingredients:
Adenosylcobalamin (Vitamin B12)
Apigenin
Benfotiamine
Biotin
BioVin® French Red Grapes Extract
Calcium β-Hydroxy-β-Methyl butyrate (CaHMB)
Cinnulin PF® Cinnamomum burmannii Bark Extract
Citrus sinensis L. Fruit Extract (40% nobiletin)
Coenzyme Q10
ElevATP®
Gynostemma pentaphyllum
Inositol
L-carnitine
Lipoic Acid
L-Tryptophan
Magnesium Glycinate
Methylcobalamin (Vitamin B12)
N-acetylcysteine
Niacinamide (Vitamin B3)
Pyrroloquinoline Quinone (PQQ)
Rosmarinus officinalis Leaf Extract
Sensoril® Ashwagandha Withania somnifera Root and Leaf Extract
Sirtmax® Kaempferia parviflora
Sophorae japonica L. Flower Extract (95% rutin)
Strawberry Seed Extract
Theobroma cacao Seed Extract
Tri creatine Malate
Tripotassium Citrate
Vitamin B1 (Thiamine)
Vitamin B2 (Riboflavin)
Vitamin B5 (Calcium Pantothenate)
Vitamin B6 (Pyridoxal-5-Phosphate)
Vitamin K2 (MK-7)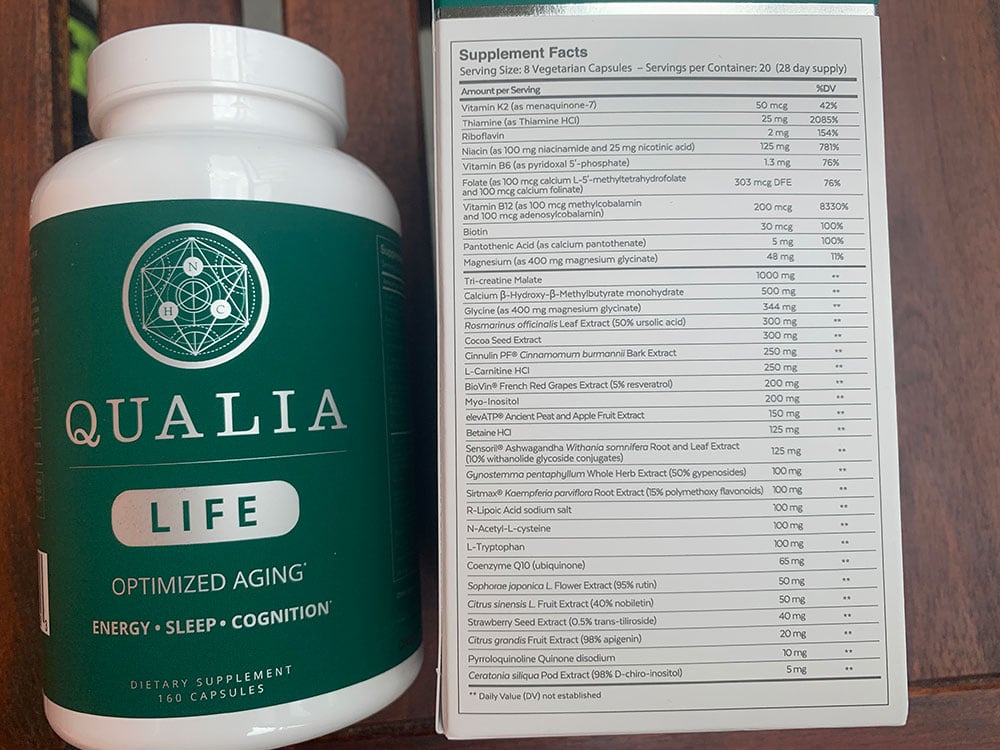 Does it work?
Qualia Life Reviews
I have seen a lot of other reviews that claim many benefits.
My Test Period and Experience
I took Qualia Life for the last 3 months. I took it as suggested: 8 capsules a day for 5 days on and 2 days off every week.
Too many pills to swallow?
Some people complain about swallowing the amount of 8 pills. When I combine Qulia Life with a nootropic stack like Qualia Mind, I end up taking 14 capsules in the morning and I don't care. I swallow 2 or 3 pills at a time and it takes me 2 minutes to have my 14 pills in. That's a good deal for a full day of energy and focus in my opinion.
My Benefits
I live already on a high level of biohacking and a healthy lifestyle. So I had a hard time noticing any effects in the beginning. My energy levels are usually quite good and I get full 8 hours of sleep anyways.
The only thing I distinctly noticed: Faster recovery from my workouts and way fewer injuries. If that is a correlation or a cause – I don't know.
Capsules vs. Drink Mix
Qualia Life is offered as capsules and in a powder form "Drink Mix". I tried the Qualia Life drink mix as well. I dislike the taste. Get the capsules if you can swallow.
Side-effects
I did not notice any side-effects with Qualia Life. You should take it with food to avoid stomach upsets.
My recommendations
I am a big fan of people who post honest reviews vs. the websites, that just promote any supplement just because they get a commission for every sale. I could tell you stories of how amazing I felt to convince you to buy Qualia Life. But I only felt a little effect of Qualia Life and that is just the truth.
The formulation and the concepts behind Qualia Life make a lot of sense in my opinion but I think it is hard to measure any anti-aging effects of any anti-aging supplement/product at the moment.
If you wanna give Qualia Life a try, you can use my Neurohacker discount code: MAXHUG to get 15% off any order at Neurohacker.com (combinable with subscription discounts).
In Europe? If you live in Europe, you can order Qualia Life here. Use Coupon MAXHUG for extra discount.
The 2 links above are affiliate codes/links and help support this blog. You get the best price possible in those shops and this blog gets a small commission if you decide to buy Qualia Life.