What is Alpha Brain Black Label?
Alpha Brain Black Label is a nootropic stack developed by Onnit. It claims to "promote razor sharp focus", "aids extreme productivity" and "supports eye health".
It's called Black Label because it is a "super-charged" version of the original Alpha Brain.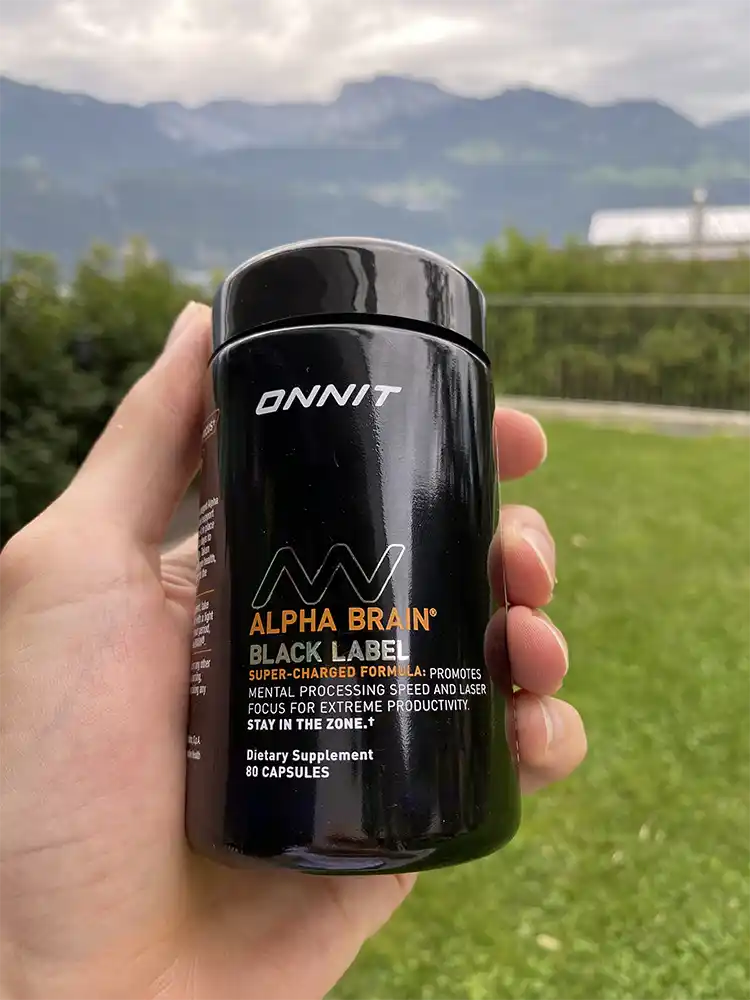 Alpha Brain Original vs. Black Label
What are the differences between the original version of Alpha Brain and the Black Label? What can you expect for a 350% increase in price (assuming you take the suggested serving size daily)?
 
Alpha Brain
Alpha Brain Black Label
Pricing*
$80 (for 45 days)
= $53 for 30 days
$125 (for 20 days)
= $187 for 30 days
Serving
size
2 capsules
4 capsules
Active
ingredients
Vitamin B6
L-Tyrosine
L-Theanine
Oat straw extract
Phosphatidylserine
Cat's claw extract
Alpha-GPC
Bacopa monnieri extract
Toothed Clubmoss
(Huperzia serrata) Extract
L-Leucine
Vinpocetine
Pterostilbene
Mucuna pruriens (velvet bean)
Lion's Mane
Citicoline
Phosphatidylserine
L-Theanine
Caffeine Anhydrous
Marigold Extract
Toothed Clubmoss
(Huperzia serrata) Extract
L-Leucine**
Packaging
Regular plastic bottle
Fancy packaging & glass bottle
In bold: Ingredients that are present in both formulas
*one-time purchase, assuming you take the suggested serving size daily
**mentioned under "other ingredients"
Note: You can use my coupon code MAXHUG to get 10% off at Onnit.com
Ingredients of Alpha Brain Black Label
The original Alpha Brain stated so-called "blends" on the supplement facts label. This hides the actual dosage of individual ingredients. So I cannot compare the dosages of individual compounds. What I can see: 4 ingredients are the same in both versions.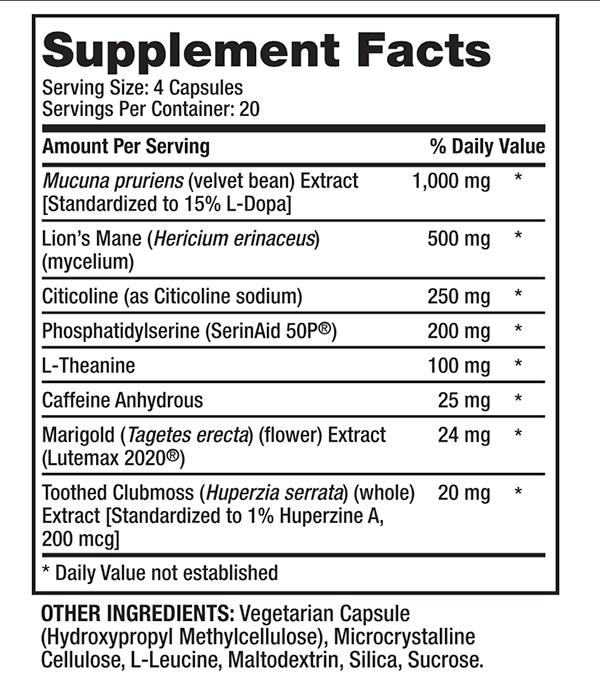 Positive: 5 of the 8 active ingredients in Alpha Brain Black Label are standardized and/or brand-name versions. This is a sign of quality ingredients as they have been studied and optimized for effectiveness.
Negative: Maltodextrin and sucrose (sugar) as a filler mentioned under "other ingredients".
Caffeine Anhydrous
I asked Onnit why they added Caffeine Anhydrous. I see that some people really enjoy the amplified effect of a whole formula with caffeine while others tend to feel the jitters or nervousness of caffeine.
Paul from Onnit answered:
..find value in the research for the use of low-dose caffeine as an ingredient by itself for alertness and cognitive performance that synergizes really well with L-theanine and Citicoline for added benefits (concentration, mood, sustained attention and more)

Paul from Onnit
The dosage of 25 mg is really a low dose (¼ cup of regular coffee) and I took it quite well even though I generally don't enjoy caffeine in capsules that much.
What I am missing is the information if that ingredient is made of organic compounds.
Lutemax 2020 & Eye Health
The claim "supports eye health" is added on the packaging due to a brand name ingredient: Lutemax 2020 (Marigold flower extract). This is a really great ingredient which I researched during my study and test of Qualia Vision.
If you really want to give your body a lot of nutrients that have been studied for eye health & vision performance, I recommend you check out my Neurohacker Qualia Vision review.
My previous experience with the original Alpha Brain
First of all: I love Onnit and the work of Founder (& Ex-CEO) Aubrey Marcus. I was part of the first year of Aubrey's Fit For Service Mastermind and I really believe he is doing important work in the world. So I really wanted to like Alpha Brain.
I first tested Alpha Brain in 2019 and was quite disappointed. After testing other nootropic stacks without any side-effects, I tried Alpha Brain in low doses and had consistent side-effects of heart palpitations and nervousness. I also heard negative feedback from my friends who tried the product.
So I am biased. Both in a positive but also in a negative way towards testing the new Black Label version.
My Black Label experience
The regular dosage is 4 capsules but I started carefully with only 2 capsules a day. I took it in the morning with water and breakfast.
Within 30 minutes after taking Alpha Brain Black Label I feel the effect starting to kick in. A calm focus. As soon as I sit down to work, I notice how I am more sharp and laser-focused.
This benefit is stronger for me compared to the original version. I am happy with the effect of 2 to 3 capsules.
Side effects? I still feel a very light nervousness at 3 capsules, but the side effects are way less compared to the original formula. I haven't tried 4 capsules as I feel this may be too much for my body.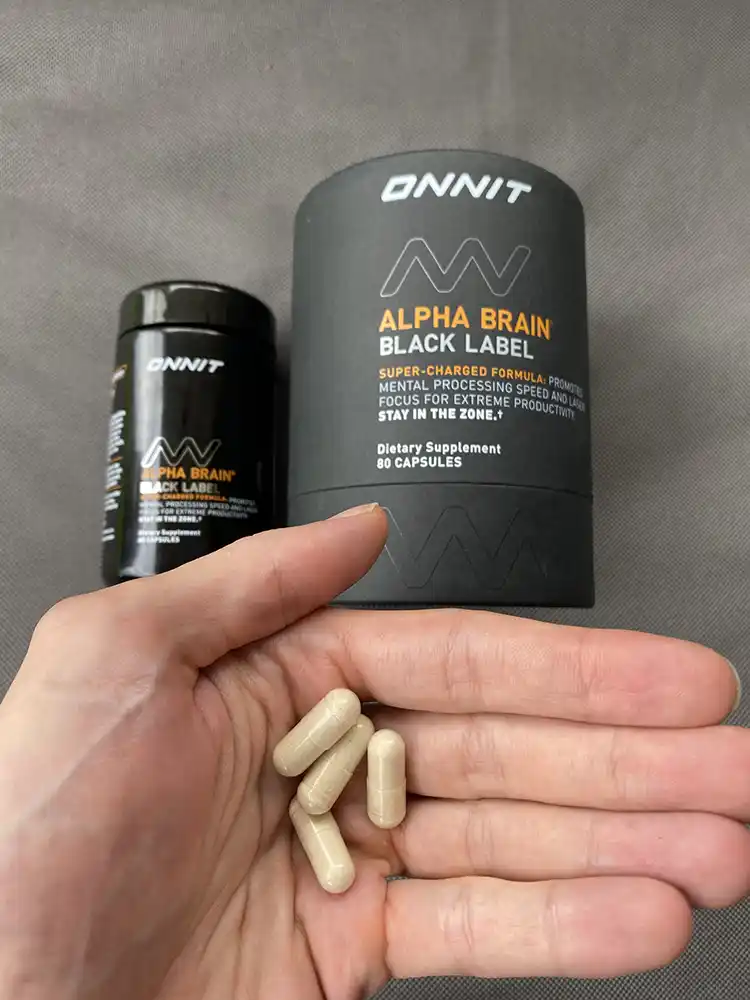 Conclusion
One of the most important fundamentals in Biohacking: Your mileage may vary. Do your own experiment and feel what works best for you.
Generally, I would recommend trying out Alpha Brain Black Label. For me it works definitely better than the original version.
Alpha Brain Black Label is in the high-end price range of nootropic stacks. At a slightly lower price point you can also try out Neurohacker's Qualia Mind, which is still my favorite.
Save 10% on Alpha Brain Black Label
Get 10% off at Onnit.com with my Onnit coupon code MAXHUG .