If you are anything like me, you love a cup of great coffee in the morning. You wanna enjoy the taste and energy but avoid the unhealthy side effects that a lot of coffees come with.
A couple of years ago biohacker Dave Asprey created Bulletproof coffee as a solution to this problem. Bulletproof was probably the first Biohacking coffee brand out there.
There are multiple biohacking coffee brands on the market today. I am going to test and compare 4 of the most popular brands and 10 different coffees roasts in total including: Bulletproof, Kion, Purity, and NoordCode.
What is Biohacking Coffee?
There is lots of good stuff (like chlorogenic acids and trigonelline) and also some bad stuff (like acrylamide, mold, and mycotoxins) in coffee.
The general idea behind biohacking coffee is to avoid the bad stuff as much as possible while having more of the good stuff through a careful selection of the right coffee beans combined with a slow roasting process.
I love the sophistication level and taste of a lot of today's small coffee roasteries. I love to get 5 different roasts and enjoy the wide range of flavors.
Recently I was mostly drinking those small roastery coffees and noticed some side effects. A jittery feeling or an unusual business in my mind. I think that's a problem with most coffee roasters: The only focus on the flavour but not on the health parameters.
So I started to get back on biohacking coffee and ordered the (probably) 3 most famous biohacking coffees from the US plus one brand from Europe.
Biohacking Coffees Tested
These are the brands and roasts you will find in my review & comparison:
Regular Roasts
Bulletproof – The Original
Purity
Purity – Dark Roast
Kion
NoordCode – Medium Roast
Light Roasts
NoordCode – Light Roast
Bulletproof – Breakfast Blend
Decaf
Bulletproof – Decaf
Purity – Decaf
Kion – Decaf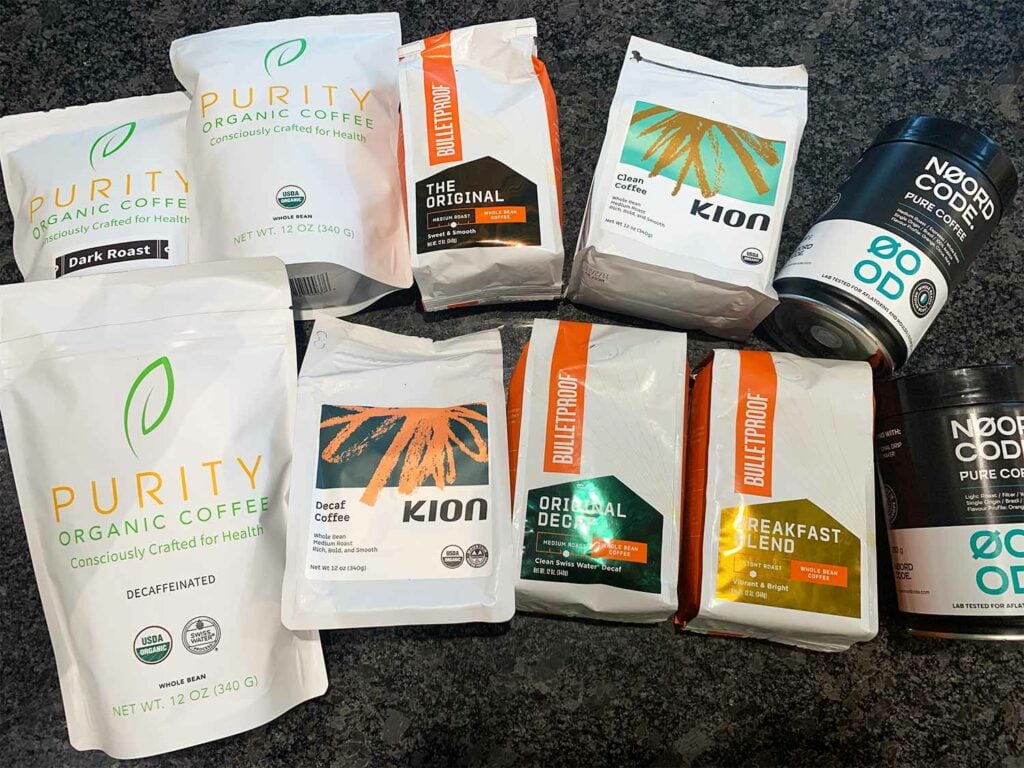 My Cupping & Testing Method
I am doing 3 different types of brewing for this test and will compare classic cupping parameters like acidity, sweetness, body, flavour, and also my feeling of how "clean" I feel after drinking the coffees. Clean being defined as less side effects. That's ultimately the reason these coffees exist in the first place.
Cupping
I am using a "professional" cupping method (following James Hoffmann) to have a somewhat meaningful comparison because I am doing pretty much exactly the same brew with all the coffees tested.
This is also time-effective for filming my YouTube video. This is the only method I will use synchronously with all coffees. This means I am going to brew and cup all coffees at the same time.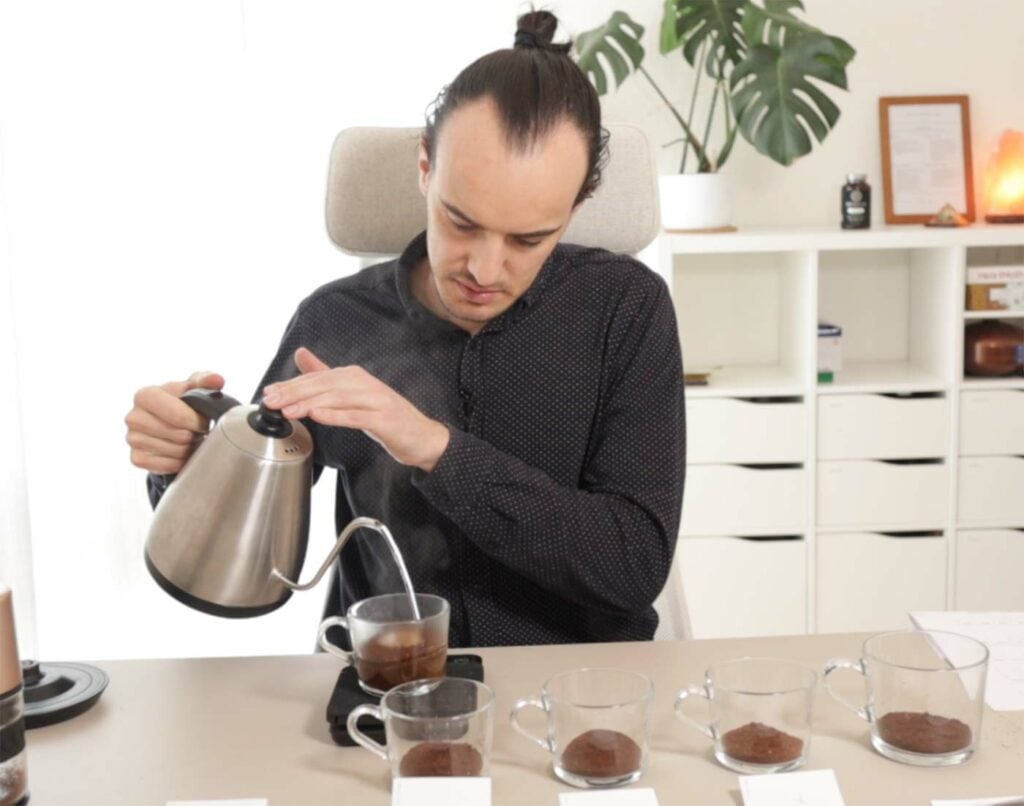 Real World Brews
French-press & Hario V60 Filter
Over the next 3 weeks I am brewing a different coffee every morning as French-press or Hario V60 brew (again using James Hoffmann's methods).
Tasting one coffee a day is obviously not as great for "neutral" comparison as the cupping method above but it will add some real world context. Most of us will enjoy our coffees as a French-press or filter brew at home.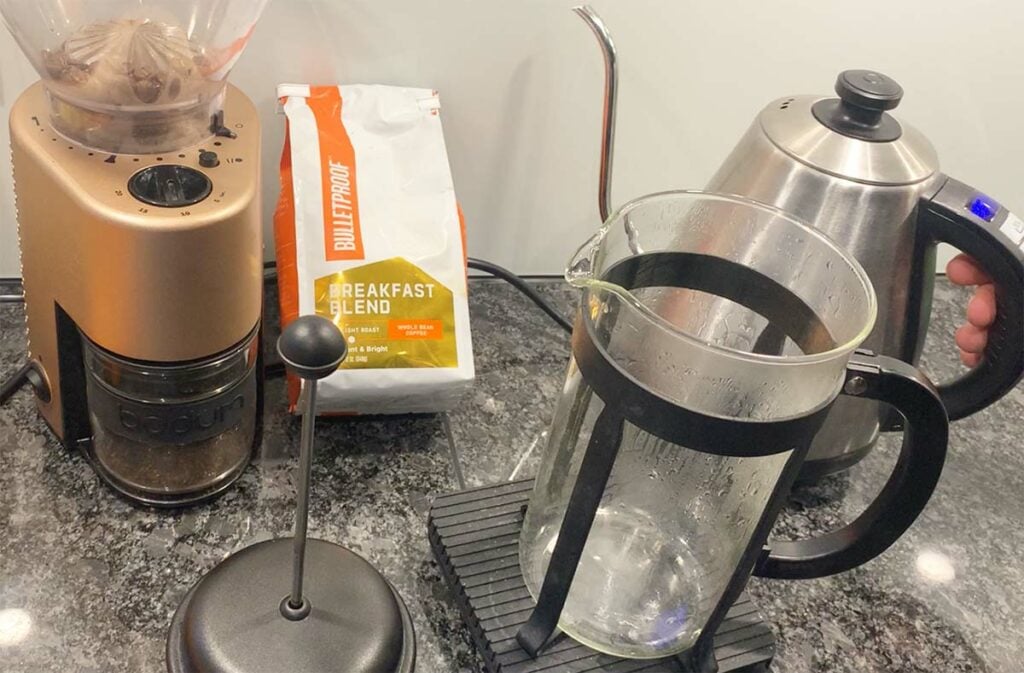 Biohacking blend with butter, coconut oil and collagen
I will also use the real world French-press brews to blend a proper biohacking coffee with butter, coconut oil and collagen powder. This is how a lot of biohackers use biohacking coffee to increase the benefits of the coffee.
Clean Feeling
The promise of clean optimized coffee is to avoid the negative side-effects of 'dirty' coffee. Can these coffees hold up to their promise?
Freshness
How fresh is the coffee? The best time to brew the coffee starts around 7 to 14 days after the roast date. Generally speaking you want to get the coffee as fresh as possible. Most coffees don't state the roasting date on the packaging but you can calculate the 'best before date' backwards. Many brands state a 3, 10 or 12 months as 'best before"' after the roasting date.
I asked all brands how to calculate their roasting date. I asked all suppliers/brands about their roasting date and calculated the time between the roast date and the shipping date (= Freshness).
Comparison
Regular Roasts
Brand / Roast
Kion
(Medium)
Bulletproof
The Original)
Purity
(Medium)
Purity
(Dark Roast)
NoordCode
(Medium)
Cupping:
Flavour
Nutty
Almonds
Cacao
Classic
Peanuts
Almonds
Cacao
Classic
Blueberry
Dark
Chocolate
Almonds
Peanuts
Fruits
Acidity
4/5
Med-High
Citrus
Crisp
3/5
Medium
Balanced
Berry
3/5
Medium
Balanced
Berry
4/5
Med-High
Citrus
4/5
Med-High
Citrus
Sweetness
3/5
Medium
3/5
Medium
4.5/5
High
2/5
Med-Low
4/5
Med-High
Body
Medium
Medium
Medium
Heavy
Med-Light
Cupping score
8/10
8/10
9/10
7/10
7/10
Real world
brews:
French-press
8/10
8/10
8/10
7/10
7/10
Biohacking
blend
9/10
9/10
8/10
9/10
8/10
Hario V60
9/10
9/10
10/10
7/10
7/10
Clean feel
10/10
10/10
10/10
10/10
10/10
Freshness
36 days*
3 months**
10 days***
10 days***
3 months****
Summary
Classic coffee
taste, crisp &
fresh, great for biohacking
blend.
Classic coffee taste, great
for biohacking
blend.
Love the
modern
blueberry
taste as black
coffee & published
lab results.
Great for
strong italian cappuccino
taste as a
biohacking
blend.
Good for
biohacking
coffee blends. Test it if you are from Europe.
*Freshness footnotes

*KION had a design & packing rebranding during this time which might have influenced the timing negatively
**ordered from a European retailer, Roast Date vs. Shipping Date is probably improved when ordering from the US directly at Bulletproof
***ordered from the US to Europe
****ordered directly from the brand (shipping from The Netherlands)
Light Roasts
In my opinion light roasts generally don't taste great as French-press or biohacking blend. The reason is simple: It's a light roast. For a French-press the body does not feel right and for a biohacking blend, the coffee taste is too light to come through.
However, these light roasts are fantastic as a Hario V60 brew.
Brand / Roast
Bulletproof
(Breakfast Blend)
NoordCode
(Light Roast)
Real world
brews:
French-press
4/10
4/10
Biohacking blend
2/10
2/10
Hario V60
9/10
8/10
Decafs
Decafs seem to be a great solution for caffeine-sensitive people or for a second cup of coffee in the early afternoon. The problem I have with decaf roasts: They generally perform worse than their regular counterparts. A decaf just never tastes as good as the real deal.
Generally the body feels kinda unbalanced and too light. The flavours are also not as great as the regular roasts. I will add a comparison table here in the future, as I feel the scores for these roasts need more investigation on my side.
Conclusion & Review
All tested coffees have high standards. The clean effect is definitely palpable for me with all coffees tested. Here are some more notes on the individual coffees.
Decafs have a hard time in general because they just never taste as good as the regular roast. I guess that is also not their job. It's like a non-alcoholic beer. You want to enjoy some but without the effects of the alcohol. So Decaf for an afternoon cup is great but for the mornings I definitely prefer all the regular roasts.
The light roasts generally perform better as black coffee and are too weak to be blended with butter, coconut oil and collagen. The coffee taste just barely comes through with the light roasts.
Kion – Clean Coffee
KION's regular clean coffee is great! It has a classic italian coffee taste with hints of almonds and cacao. The crisp citrus acidity gives it a fresh kick. The sweetness and body are very balanced. I give it an 8/10 as black coffee and a 8/10 for a biohacking blend.
You can get Kion Coffee here and 10% off with coupon code MAXHUG
Bulletproof – The Original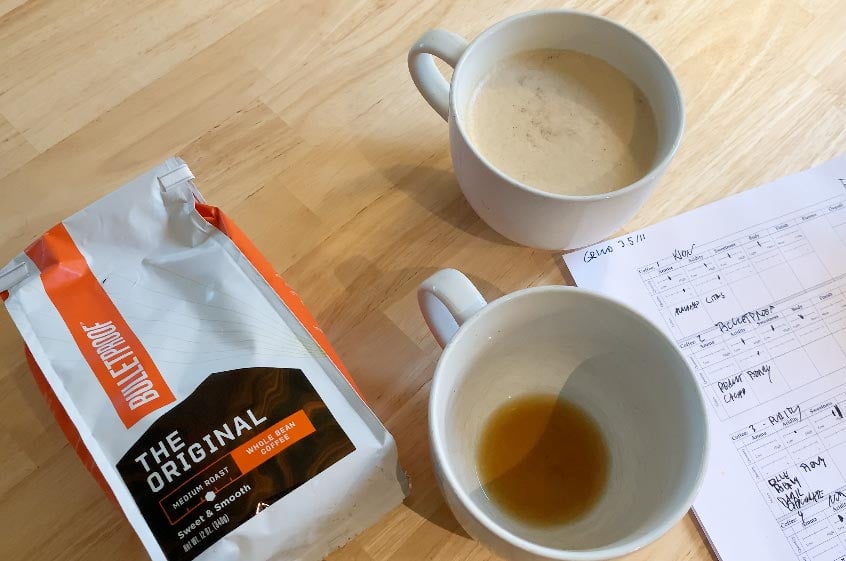 'The Original' sums it up pretty well. The taste is similar to KION's regular roast, although the acidity tastes more berry like and feels a bit lower. Overall a classic coffee taste. 8/10 as black and 9/10 for a biohacking blend.
Buy Bulletproof Coffee (EU) & Bulletproof Coffee (USA)
Bulletproof – Breakfast Blend
This light roast sucks for a French-press or biohacking blend but is fantastic as a V60 filter brew: Clean, crisp, and light.
Bulletproof Breakfast Blend is my favourite light roast for a black coffee.
Buy Bulletproof Coffee (EU) & Bulletproof Coffee (USA)
Purity – Medium Roast
I love the modern blueberry taste that comes through pretty strong. When the black coffee cools down hints of dark chocolate come through. It's great as black coffee, high in sweetness, but is a bit too weak as biohacking blend.
Purity – Medium is my favourite coffee for a Hario V60 filter black coffee brew.
Order Purity Coffee here (USA only)
Purity – Dark Roast
Lower in sweetness and a heavier body compared to the Medium Roast. I don't like this roast as black coffee but I love it for a strong biohacking blend. This makes a biohacking coffee blend taste like a classic italian cappuccino.
Purity – Dark Roast is my favourite coffee for a classic Italian cappuchino taste as a biohacking blend.
Order Purity Coffee here (USA only)
NoordCode – Medium Roast
Roasted in Slovakia, sold from The Netherlands. A great choice for Europeans. Peanuts is the strongest taste that comes through. The body feels a bit too light for me. Apparently it has a great cupping score of 88.5 (by coffee professionals, not by an amateur biohacking blogger). I don't like it as black coffee but it comes close to KION & Bulletproof for a biohacking blend.
Buy NoordCode Coffee (EU only)
NoordCode – Light Roast
Similar to the Bulletproof Breakfast Blend, this roast doesn't do well as French-press or biohacking blend. It is great though as V60 filter brew.