Neurohacker's Qualia Mind has been the top nootropic choice for many biohackers for years. In 2022 however, Neurohacker had to pull Qualia Mind from the European Market for reasons I'll discuss later.
Now finally, Neurohacker launched the new European (EU) versions of Qualia Mind and Qualia Mind Caffeine Free.
I've tested the new versions for the past 3 weeks and wanted to share my experience here and also discuss the differences and sameness of both versions as well as the formula updates on the US version for 2023.
"So what's different for us Europeans?", you might ask.
The most important thing: The effects of both versions are totally the same.
I compared Qualia Mind (the original US version) with Qualia Mind EU and also the Mind Caffeine Free versions EU & US. I couldn't tell any difference in effects between the EU and US versions.
Qualia Mind Europe vs. Qualia Mind US
What changed from Qualia Mind US 2022 to Qualia Mind EU 2023:
Ingredients that are the same: 25 out of 28
Ingredients changed in dosage: 1
Ingredients removed: 2
Ingredients newly added: 1
400 mg Artichoke Leaf Extract (instead of 500 mg)*
No PQQ (instead of 10 mg)
No Theobromine (instead of 100 mg)*
New: 30 mg Coenzyme Q10 (not present in the US version)
(All amounts refer to a dosage of 7 capsules.)
*The US Version for 2023 underwent the same changes. So the difference in 2023 between the US & EU version is just the CoQ10 instead of PQQ part.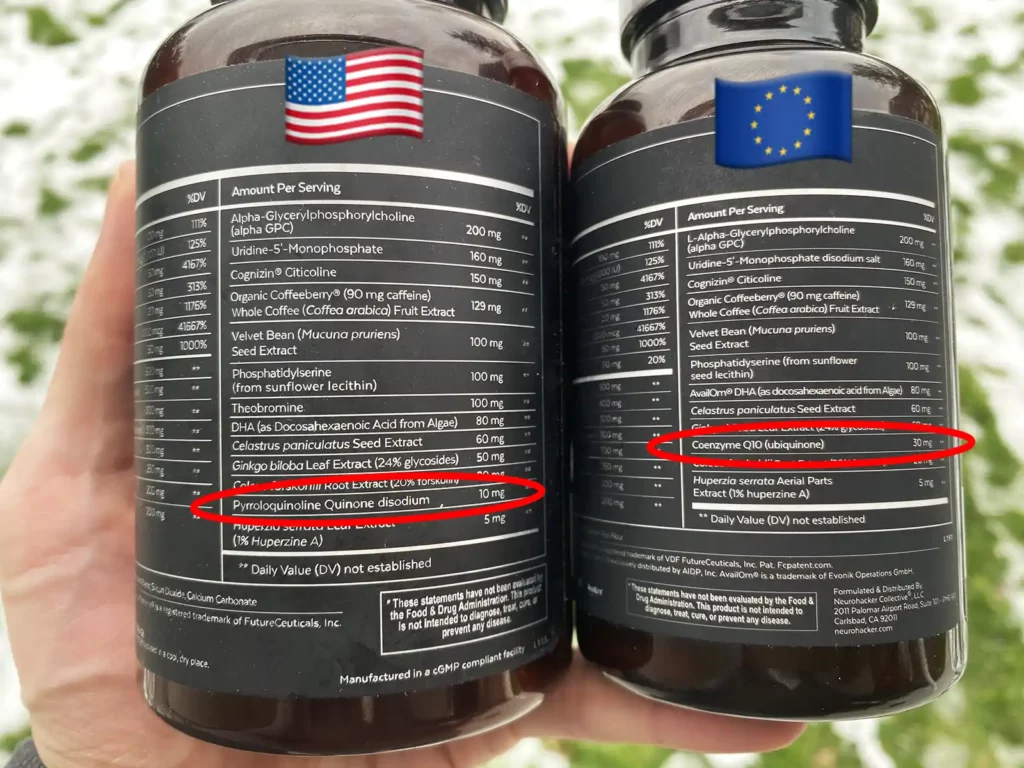 Note: Neurohacker also added "110 mg Choline" in the EU vitamins list. This Choline however is not added on top but only the Choline present in Alpha GPC and Cognizin. So the actual amount of Alpha GPC and Cognizin is the same in both versions.
Why did Neurohacker release a European version anyways?
The food supplement laws between the US and Europe are different. Some ingredients are considered a food in the US that are not allowed as food in the EU.
The issue with PQQ (Pyrroloquinoline Quinone disodium) is that it has a patent in the EU that Neurohacker apparently couldn't licence.
The new European versions take these 2 topics into account.
2023 European Formula & US Formula Changes
I asked Gregory Kelly, Lead Formulator at Neurohacker for more details on how and why the formula was adapted.
Coenzyme Q10 instead of PQQ
We felt like substituting Coenzyme Q10 (CoQ10) for PQQ was the most like-for-like ingredient change we could make (in terms of mitochondrial support, related functional benefits, and how they are used as nootropics).

I consider mental energy to be a big part of brain performance (Dave Asprey makes the case strongly in his book Headstrong).

Removing the PQQ weakens the mitochondrial energetic support aspect of Mind, and we felt like we needed to make up for this.

Since there's no CoQ10 in Mind & Mind Essentials, replacing PQQ with CoQ10 made the most sense to us to keep the formula as functionally similar in this area as possible.

Gregory Kelly, Lead Formulator at Neurohacker
Removal of Theobromine & Decrease of Artichoke Leaf Extract
We also made a decision to remove Theobromine from Mind, which I believe also was done for the EU version. Part of the reason was that we needed to free up some capsule space because Mind was extremely difficult to run from a manufacturing perspective and part was I reviewed all the studies on our ingredients to prep for a study we are doing on Mind.

After doing that I felt the research, simply put, did not point to theobromine having nootropic benefits. I've put info on this and a move to a higher standardized artichoke extract at the bottom.

Qualia Mind has always used an Artichoke Leaf Extract standardized for cynarin (an important active compound found in artichoke) and supplied 40 mg of cynarin content per recommended 7 capsule dose.

We had been sourcing an extract that was standardized for 4% cynarin. It took 500 mg of the Artichoke Leaf Extract to supply the 40 mg of cynarin using that extract. Our new Artichoke Leaf Extract is standardized for 5% cynarin.

It only requires 400 mg of this extract to supply the same 40 mg dose of cynarin. Because the new source has a higher standardization, we had to reduce the amount of Artichoke Leaf Extract to still deliver the same 40 mg of cynarin.

Gregory Kelly, Lead Formulator at Neurohacker
Note: The newest 2023 US version of Qualia Mind also removed Theobromine and lowered the Artichoke Leaf Extract (but keeping the same 40 mg of cynarin). So the 2023 US version is basically the same formula as the EU version expect for PQQ.
Also different: The EU versions come with 105 capsules (US = 154 capsules) – So at the full "7 capsules a day/5 days a week", it would last for 3 weeks (vs. US = 4 weeks). Personally, I use only 5 to 6 capsules for 2 – 3 days a week – One bottle lasts easily for 2 months.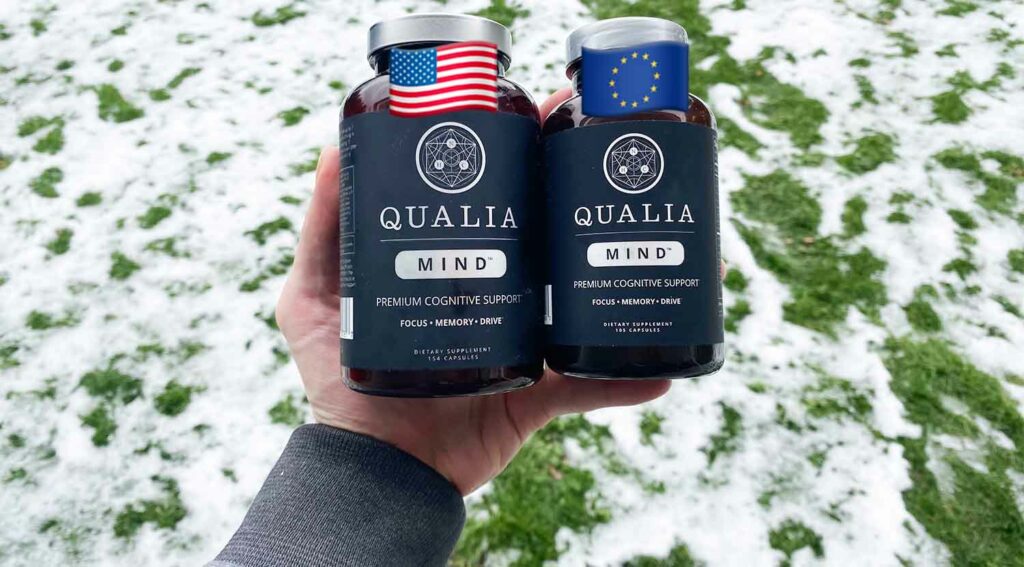 Where to Buy Qualia Mind (in) Europe?
You can order the new EU versions (and other Neurohacker products) from my friends at LiveHelfi:
Add Neurohacker coupon code "MAXHUG" at the checkout for an extra discount.
So far this is the only European shop I am aware of for Qualia Mind.
Conclusion
The European version of Qualia Mind is as great as the US version. It's still my absolute favorite nootropic product out there. Highly recommended.
You can read my in-depth review on Qualia Mind here.
Affiliate Disclosure: Please note that I'm an affiliate for LiveHelfi and by using my coupon code above, I get a small commission at no extra costs for you to support the creation of content.