Do you wanna improve your cognitive performance with Qualia Mind Caffeine Free?
Here is why the caffeine-free version of Qualia Mind is my absolute favorite. So far I tested all these nootropic stacks in 2019.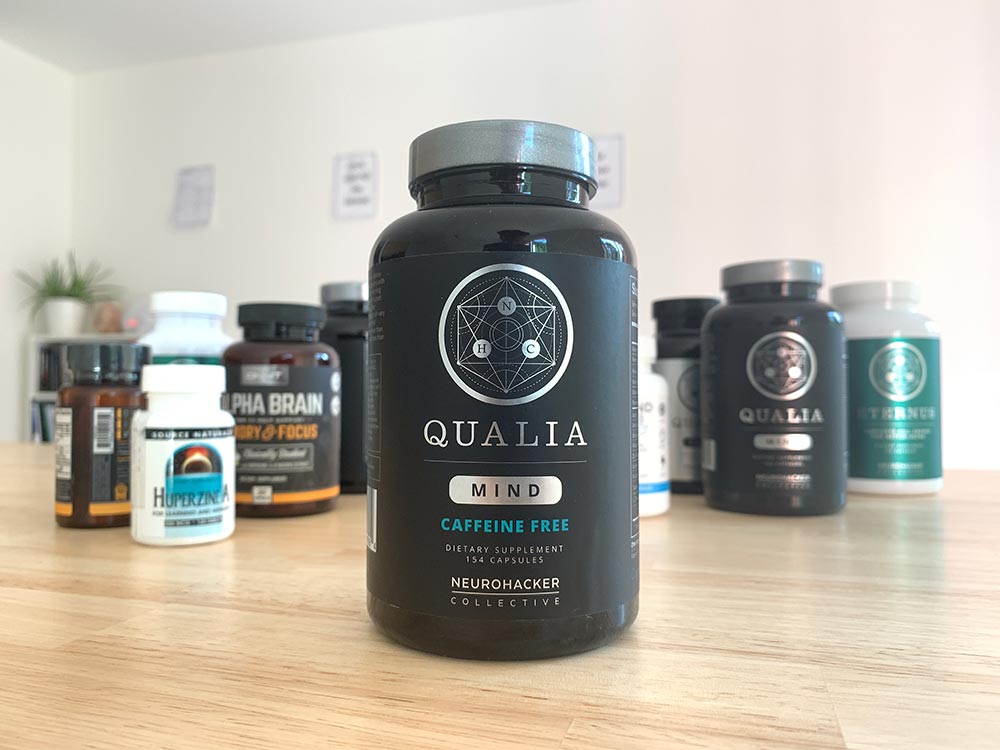 What is Qualia Mind Caffeine Free?
Nootropic Stack
Qualia Mind is a nootropic stack developed by the Neurohacker Collective in California. As far as I know, it is the nootropic stack with the highest total amount of 26 active compounds per serving and also a higher price tag (Save up to 57% with the tip at the end of this article).
So instead of trying out single nootropics individually, you take a bunch of them together in one stack. The formulation is backed up by research and tries to create the broadest effect possible on your cognitive capabilities.
More than caffeine-free
Compared to the normal Qualia Mind three ingredients are missing or used in lower dose:
Anhydrous Caffeine (0 vs. 90 mg)
Theobromine (0 vs. 100 mg)
DHA (as Docosahexaenoic Acid from Algae) (80 vs. 200 mg)
You find more details on nutritional details down below.
Benefits for other users
Other users claim they achieved the following results:
Critical thinking improved fairly dynamically
More focus
More energy
Sleep better
More sound in the morning
Compounds
The overall formulation concept is to have a well-formulated blend. Several compounds help each to create an effect bigger than the sum of their parts.
While delivering immediate short-term effects, we take a longer-term approach and support cognitive health benefits, including neuron and synapse development, mitochondrial fitness, cell structure integrity, and neural complexity.

Neurohacker Collective
Supplement Facts
The following supplement facts are based on a serving size of 7 capsules.
| | |
| --- | --- |
| Ingredient | Amount |
| Vitamin C (as ascorbic acid) | 100mg |
| Vitamin D3 (as cholecalciferol) | 25 mcg (1,000 IU) |
| Thiamine (as thiamine HCI) | 50 mg |
| Niacin (as niacinamide) | 50 mg |
| Vitamin B6 (as pyridoxal 5′-phosphate) | 20 mg |
| Vitamin B12 (as methylcobalamin) | 1000 mcg |
| Pantothenic Acid (as calcium pantothenate) | 50 mg |
| Acetyl-Larnitine HCI | 500 mg |
| Artichoke Leaf Extract (4% cynarin and related flavonoids) | 500 mg |
| Bacopa monnieri Leaf Extract (40% bacosides) | 300 mg |
| Rhodiola Rosea Root Extract (3% rosavins; 1% salidrosides) | 300 mg |
| DL-Phenylalanine | 300 mg |
| Uridine-5-Monophosphate heptahydrate disodium | 250 mg |
| N-Acetyl-L-Tyrosine | 250 mg |
| Taurine | 200 mg |
| L-Theanine | 200 mg |
| Alpha-glycerylphosphorylcholine (alpha GPC) | 200 mg |
| Cognizin citicoline | 150 mg |
| Velvet Bean (Mucuna pruriens) Seed Extract (50% L-Dopa) | 100 g |
| Phoaphatidylserin (from sunflower lecithin) | 100 mg |
| DHA (as docosahexaenoic acid from algae) | 80 mg |
| Celastrus paniculatus Seed Extract | 60 mg |
| Ginkgo biloba Leaf Extract (24% glycosides) | 50 mg |
| Coleus forskohlii Root Extract (20% forskolin) | 20 mg |
| Pyrroloquinoline Quinone Disodium | 10 mg |
| Huperzia serrata Leaf Extract (1% Huperzine A) | 50 mcg |
My way of using Qualia Mind Caffeine Free
Qualia Mind vs. Qualia Mind Caffeine Free
I used the normal version of Qualia Mind before and really enjoyed the benefits of it. The reason I tried the caffeine-free version was that I felt the effect a little too strong when I was taking Qualia Mind together with my biohacking coffee.
The effect of Qualia Mind Caffeine Free by itself compared to Qualia Mind is a little less strong. It still has a great effect overall but the energizing effect is less strong.
I take Qualia Mind Caffeine Free often with a small cup of biohacking coffee. Now it's perfect! The effect is the same as the standard Qualia Mind.
To put the effects in a simple math equation:
| | | |
| --- | --- | --- |
| Product | Effect | Product |
| Qualia Mind | = | Qualia Mind Caffeine Free + one small biohacking coffee |
| Qualia Mind | = | Qualia Mind Caffeine Free + two cups of decaf coffee |
| Qualia Mind | > | Qualia Mind Caffeine Free |
Caffeine-sensitive?
If you are caffeine-sensitive you probably won't drink it with coffee. I would still totally recommend you Qualia Mind Caffeine Free by itself.
Side-effects
With Qualia Mind, I had a slight stomach upset in the first couple of days. I found an easy way to overcome that:
Instead of taking it first thing in the morning with water, I take it with some food (breakfast or shake). That's the easy solution if you get a slight stomach upset.
Dosage
The suggested serving size is 7 capsules. I started with 3 capsules and added one a day until I reached 7 capsules and had my desired level of effect. You can actually take up to 10 capsules.
Neurohacker recommends cycling the intake: 5 days on and 2 days off a week. This prevents building up a resistance against the compounds.
I only take it 3 days on and 4 days off a week. That's because I want to use it for certain benefits.
My Benefits
Flow
I use this nootropic stack to get into a state of Flow.
For me, that means: Writing blog articles or producing biohacking videos for my YouTube channel.
I do one task for two hours straight. I get immersed in the task at hand and blend out outside distractions. I produce highly useful content for my readers. It becomes effortless and well, flowy.
For this, I need to turn off my phone, all notifications, and distractions. Since this works best in my home office, I do it only from Friday to Sunday. And that's why I use Qualia Mind only for 3 days a week.
Qualia helps me to get faster into Flow. Without Qualia, I might take 40 – 50 minutes to be totally absorbed and in Flow. With Qualia Mind, I get into Flow within 10 – 20 minutes.
Productivity
Overall I get more important stuff done! And this in high quality.
Conclusion
I'd recommend trying Qualia Mind Caffeine Free out. It might help you to boost your productivity, mental clarity, and overall cognitive performance.
Save up to 57%
Save 50% off with the first-month subscription discount and get an additional 15% off with my coupon code MAXHUG.**
**This is an affiliate code. This means you get the best price possible and karma points for helping me create more content on self-optimization and biohacking. I get a small commission if you use my coupon code to order Qualia Mind Caffeine Free.