Qualia Immune
Neurohacker Collective just launched Qualia Immune, a dietary supplement designed to provide premium immune support.
I am a big fan of Neurohacker's nootropic Qualia Mind which I use regularly for enhanced focus and productivity. So I was pretty stoked to be one of the first people to get a bottle of Qualia Immune in my hands and test it for myself.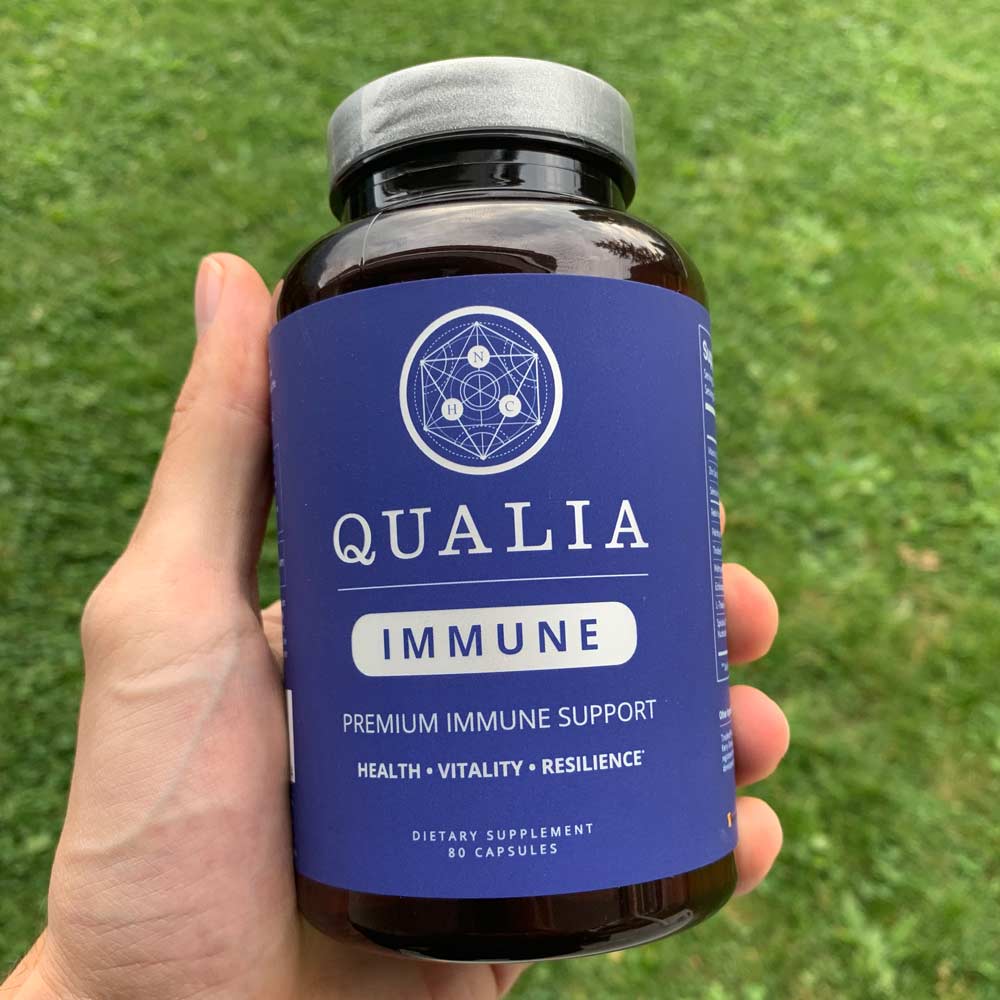 Smart & Premium Supplements?
As a biohacker, YouTuber, and blogger, I have tested dozens of supplements and nootropics by now and realized that very few products are actually high-quality with clean ingredients and sophisticated formulas that use complex systems science.
Neurohacker Collective seems to be a very trustworthy company that has high-quality standards and understands complex systems in the body better than any other supplement company I have seen so far.
About Neurohacker Collective
A couple of months ago I interviewed James Schmachtenberger, the Co-Founder and CEO of Neurohacker Collective. Check out my interview to learn more about the founding story and big vision behind Neurohacker.
A smart immune system
Greg Kelly published this in-depth blog article on how our immune system works and how ingredients of Qualia Immune support certain functions of the immune system. I highly recommend reading it, if you want to understand all the details.
Some nuggets from Greg's blog article:
Fast & Slow Thinking
Our immune system "thinks". Similar to Daniel Kahneman's model of our brain thinking fast and slow, our immune systems use fast and slow thinking, too:
Innate immunity is a "fast thinker" which acts quite immediately to solve problems
Adaptive immunity is a "slow thinker" which learns over longer periods of time to solve more complex problems
Antifragile
Greg describes our immune systems as an antifragile system in the sense of Nassim Taleb's Antifragile model.
The brain and nervous system is an example; it is antifragile. When challenged to learn new information, the brain benefits; it gets smarter. Muscles and bones are antifragile.

When challenged by exercise, muscles and bones do more than tolerate the stress, they get fitter and stronger. Like the brain and muscles, the immune system is antifragile.

The answer to the question of "What Is Immune System Intelligence?" is that it is the antifragile intelligence that arises because of the cooperation, competition and communication of immune cells.

The immune ecosystem is an adaptive intelligence. When challenged, it behaves intelligently, but it does more than this: It can get smarter and fitter.

Greg Kelly, Neurohacker.com
Training & Supporting a Smart Immune System
One part of how Qualia Immune supports the immune system to be more antifragile is by training it with molecules (e.g. beta-glucan) that act like exercise, promoting innate immune training.
Another part of the formulation is there to support Hematopoietic stem cells which produce immune cells.
Some compounds support adaptive immunity, while other ingredients have shown to support the immune tolerance. Overall the whole formula is designed to approach immune support from "all sides" and layers of our immune system.
Qualia Immune Ingredients & Studies
Qualia Immune combines 19 scientifically studied ingredients in order to support the different layers of the immune system, and the many interacting immune cells.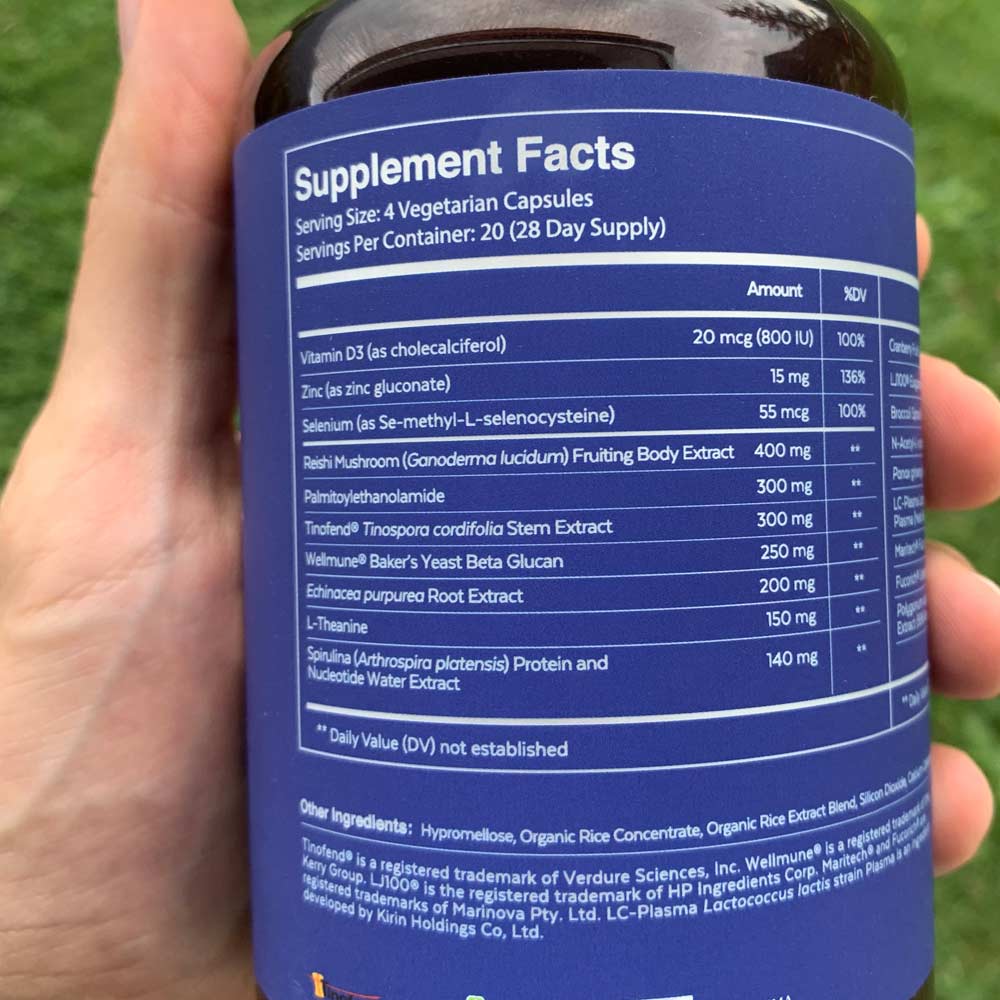 Qualia Immune – Ingredients
Wellmune® Baker's Yeast Beta Glucan
LC-Plasma Lactococcus lactis strain Plasma (heat killed)
LJ100® Eurycoma longifolia Root Extract
Tinofend® Tinospora cordifolia Stem Extract
Palmitoylethanolamide
Spirulina (Arthrospira platensis) Protein and Nucleotide Water Extract
Reishi Mushroom (Ganoderma lucidum) Fruiting Body Extract
Maritech® Fucus vesiculosus Extract
Panax ginseng Root Extract
Echinacea purpurea Root Extract
Cranberry Fruit Extract
Polygonum cuspidatum Root Extract (95% Resveratrol)
Broccoli Sprout Powder
L-Theanine
N-Acetyl-L-cysteine
Zinc Gluconate
Selenium (as Se-methyl-L-selenocysteine)
Vitamin D3
Maritech® Fucorich® Undaria pinnatifida Extract
Neurohacker explains that this formulation supports a fit and smart immune system by combining herbal immune adaptogens, superfood extracts, probiotics, beta-glucans, algae extracts, polyphenols, trace minerals, and vitamin D.
Studies on Qualia Immune ingredients
Neurohacker lists very interesting studies on the individual ingredients in this blog article by Lead Formulator Greg Kelly.
I interviewed Greg last year in Carlsbad, California. Check out the interview to learn more about the formulations behind Qualia Life (at the time was called "Eternus") and Qualia Nootropic Energy.
My first week on Qualia Immune
I've tested Qualia Immune now for a week. I took 4 capsules a day with breakfast for 5 days on and 2 days off.

So does it work?
It is hard to tell after a week and I honestly think I have to take it for another 6 months and see how I get through the winter here in Switzerland. Challenge accepted 🙂
With Qualia Mind and Qualia Nootropic Energy I feel the effects within minutes to hours after intake. A stronger immune system does not feel much different to me for now.
The same applies to Qualia Life. It is a formula that makes a lot of sense to me, but it is not a product designed to feel the difference instantly, so it will take time.
Qualia Immune Coupon Code
You can order Qualia Immune at Neurohacker.com and get 15% off with the Neurohacker coupon code MAXHUG.
You can save 50% on the first month with a cancel-anytime-subscription and additionally add the coupon code to get another 15% off.