I've first tested Mind Lab Pro in 2019 and recently tried the 2022 version of Mind Lab Pro 4.0. Here is my review and experience with Mind Lab Pro.
My Mind Lab Pro Review in a Nutshell
Mind Lab Pro is a nootropic stack for optimized brain health, focus, memory and clarity. My experience has been only positive after taking it for 2 months.
Mind Lab Pro uses high quality ingredients and had no side effects for me. The focusing effect is very palpable. Plus: It's a good value for money nootropic stack.
Mind Lab Pro – Pros & Cons
Pros:
Focusing effect
Well researched ingredients for brain performance
Good value for money
Cons:
No subscription option (Only 3+1 deal)
Founders are quite anonymous
My Experience
I tried 2 to 4 capsules of Mind Lab Pro a day as suggested. At 2 capsules a day the focusing effect is subtle for me. At 3 capsules the focusing effect is definitely strong.
The focusing effect felt like I focused easier on my task. I stayed focused on my task even with outside distractions that otherwise would have interrupted my focus. It feels as if Mind Lab Pro leads me to higher productivity and is useful for screen work and learning.
I also liked that I didn't feel any side effects from Mind Lab Pro (unlike other nootropic stacks I tried).
Ingredients
Mind Lab Pro includes 11 nootropics. These 11 nootropics are research backed and believed to optimize 6 cognitive pathways for mental performance and overall healthy brain function.
List of Ingredients
Vitamin B6 (as NutriGenesis*) 2.5 mg
Vitamin B9 (as NutriGenesis*) 100 mcg
Vitamin B12 (as NutriGenesis*) 7.5 mcg
Citicoline (as Cognizin**) 250 mg
Bacopa Monnieri (Full-spectrum extract with 24% bacosides including the herb's 9 most active nootropic bacoside compounds) 150 mg
Organic Lion's Mane Mushroom (Full-spectrum including hericenones and erinacines) 500 mg
Phosphatidylserine (PS) (as Sharp PS Green** from Sunflower Lecithin) 100 mg
N-Acetyl-L-Tyrosine (NALT) 175 mg
L-Theanine (as Suntheanine**) 100 mg
Rhodiola rosea (standardized for a minimum 3% rosavins and 1% salidrosides)
Maritime Pine Bark Extract 75 mg (minimum of 95% active nootropic proanthocyanidins)
*NutriGenesis is a standardized branded extract by OptiNutra that is optimized for bioavailability.
**Standardized ingredients that have been researched in studies and stand for high-end quality of the ingredient
Capsules & Filler
Mind Lab Pro is filled in NutriCaps, a Pullulan capsule based on polysaccharides. As filler Mind Lab Pro uses NuFlow Rice Concentrate.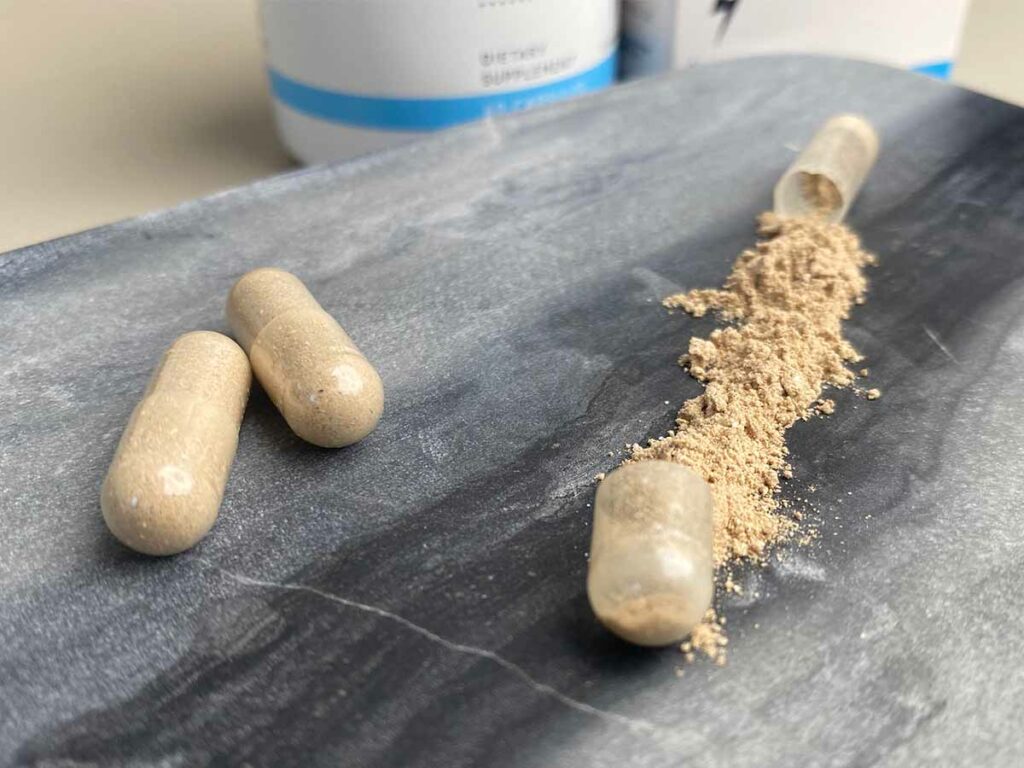 Made in USA
Mind Lab Pro is manufactured in the USA.
Where To Buy
You can buy Mind Lab Pro only in the official stores:
Official US / International Shop
How long does Mind Lab Pro last?
The effect of Mind Lab Pro for me lasts 4 to 6 hours.
The daily dosage is 2 to 4 capsules and so one bottle with 60 capsules would last you 15 to 30 days if taken daily.
How to take it?
The suggested use is simple: Take 2 to 4 capsules in the morning or early afternoon with a glass of water. I would recommend taking it with some food for better absorption and less risk of stomach upsets.
Mind Lab Pro Discount Code
Be aware of many fake coupon websites out there. There is no (affiliate) discount code for Mind Lab Pro but you can get a 10% discount if you sign up for the Mind Lab Pro newsletter in the popup on their website. The biggest savings you get is when you order the 3 bottles + 1 free bottle deal.
Pricing & Cost per Day
Mind Lab Pro offers 3 packs to buy – Assuming you take 2 capsules a day this would be your cost per day:
Single bottle for $ 69 / € 59 plus shipping that equals $ 2.30 / € 1.97 per day (+ shipping)
Two bottles for $ 138 / € 118 plus shipping that equals the same daily costs as the single bottle
Four bottles for $ 207 / € 177 with free shipping will give you the lowest per day costs at $ 1.73 / € 1.48.
You might also need 4 capsules to feel the full effect in which the price per day increases to $ 3.46 to $ 4.60 / € 2.96 to 3.94.
Please note: I recommend not to take any nootropic stack daily but have at least 2 off days a week where you don't take any nootropics (incl. caffeine) to help your body reset. This also means that one bottle might last you longer than a month.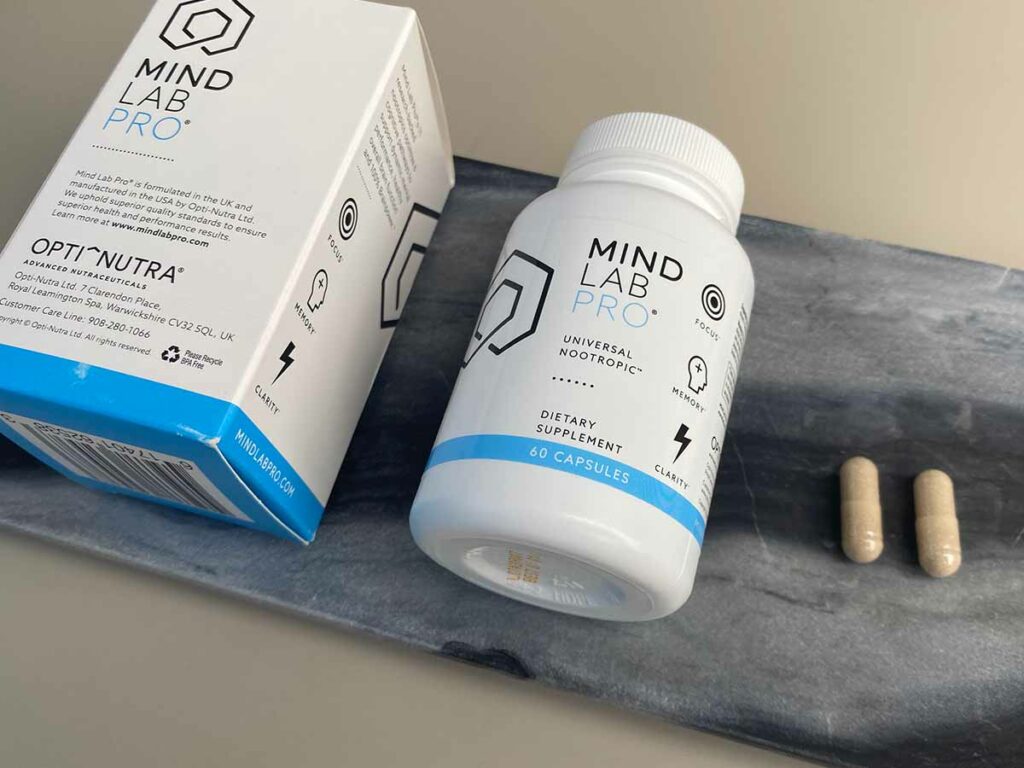 Mind Lab Pro Alternative
Personally I like the effect of Mind Lab Pro but prefer another nootropic stack even more: Neurohacker's Qualia Mind (Check out my Qualia Mind Review here). The effect is broader but the price is also higher: Around $ 5 to $ 7 a day depending on your dosage and subscription discount.