I've tested Onnit's flagship product bundle Total Human for over a month and here is my review.
In a Nutshell
Pros:
Convenient (one pack in the morning, one pack in the evening)
Very comprehensive supplement bundle
Science backed formulas & ingredients
Cons:
Includes Alpha Brain – Has side effects for me (see my Alpha Brain review here for details) and is not the best nootropic stack
Environmentally unfriendly due to the many small packs
What is Total Human?
Total Human by Onnit is a comprehensive supplement bundle that aims to support overall health and well-being. The bundle includes a variety of different supplements, including vitamins, minerals, and herbs, that are designed to support various aspects of health, such as energy production, stress management, and immune function.
One of the standout features of Total Human is its use of high-quality, science-backed ingredients. Onnit sources its ingredients from reputable suppliers and uses clinically effective dosages, ensuring that users are getting a product that is both safe and effective.
Ingredients
Total Human includes 60 pre-packed supplement packets. Every morning you take the "Day" packet and in the evening you take the "Night" packet.
Supplements in the Day packet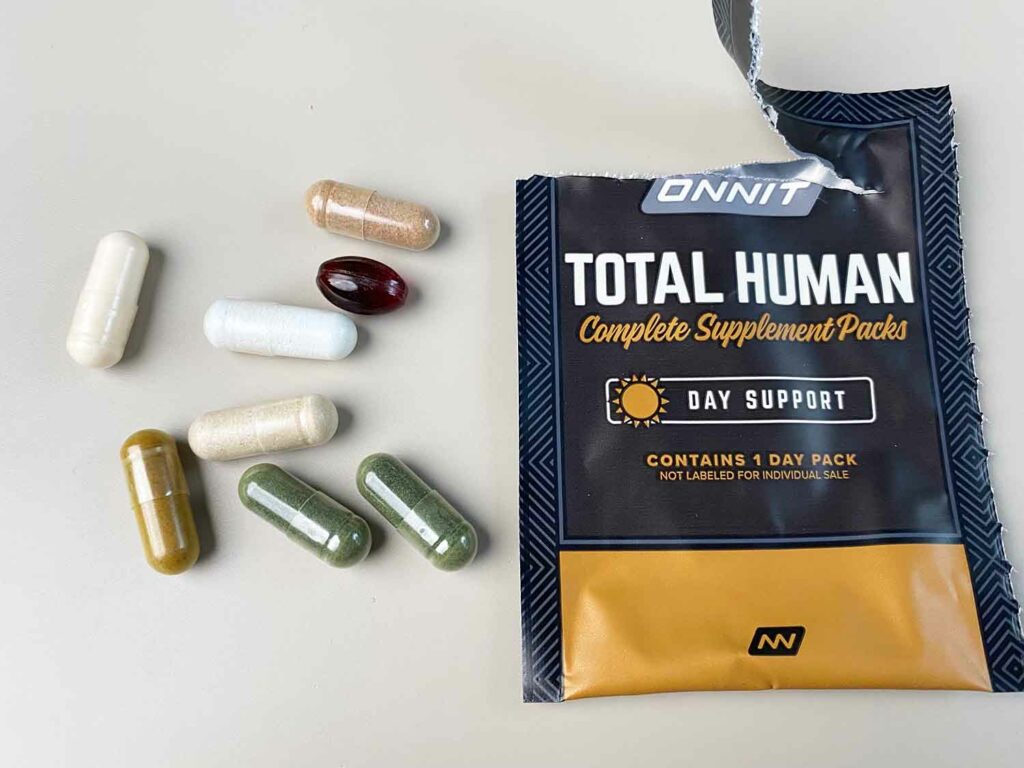 You will get 8 capsules in total:
Stron Bone
Alpha Brain – Onnit's nootropic stack
Krill Oil
Total Human B Complex
Shroom Tech Sport – Vital mushrooms and Vitamin B12
Shroom Tech Immune – Immune-supporting mushrooms and plant extracts like turmeric and ginger
Spirulina & Chlorella – Green superfoods (2 capsules)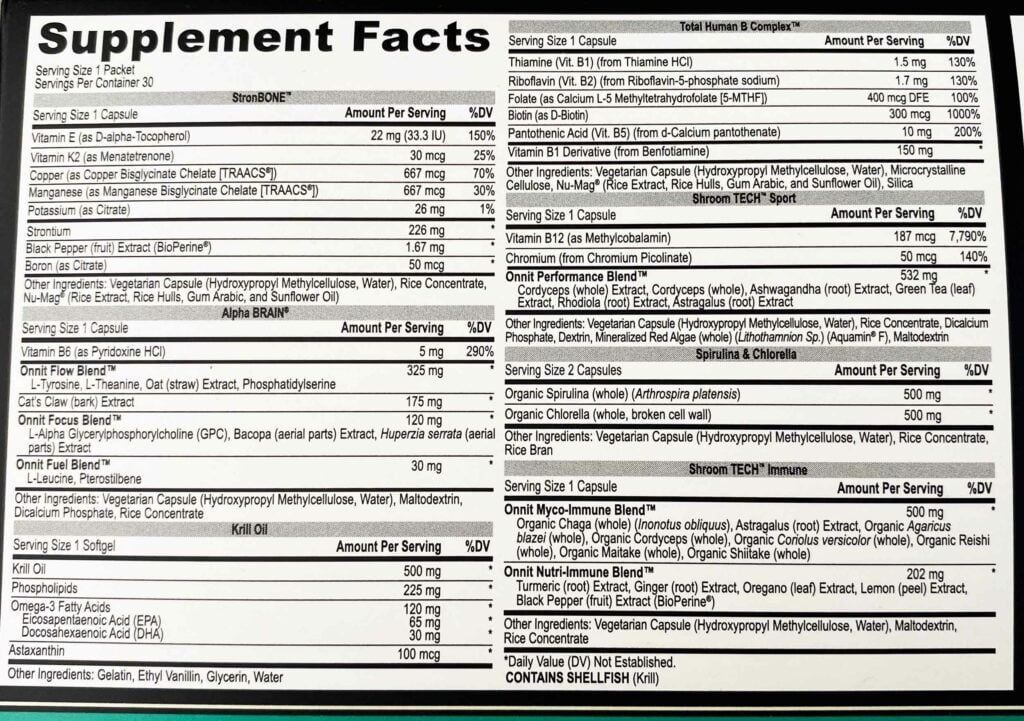 Supplements in the Night packet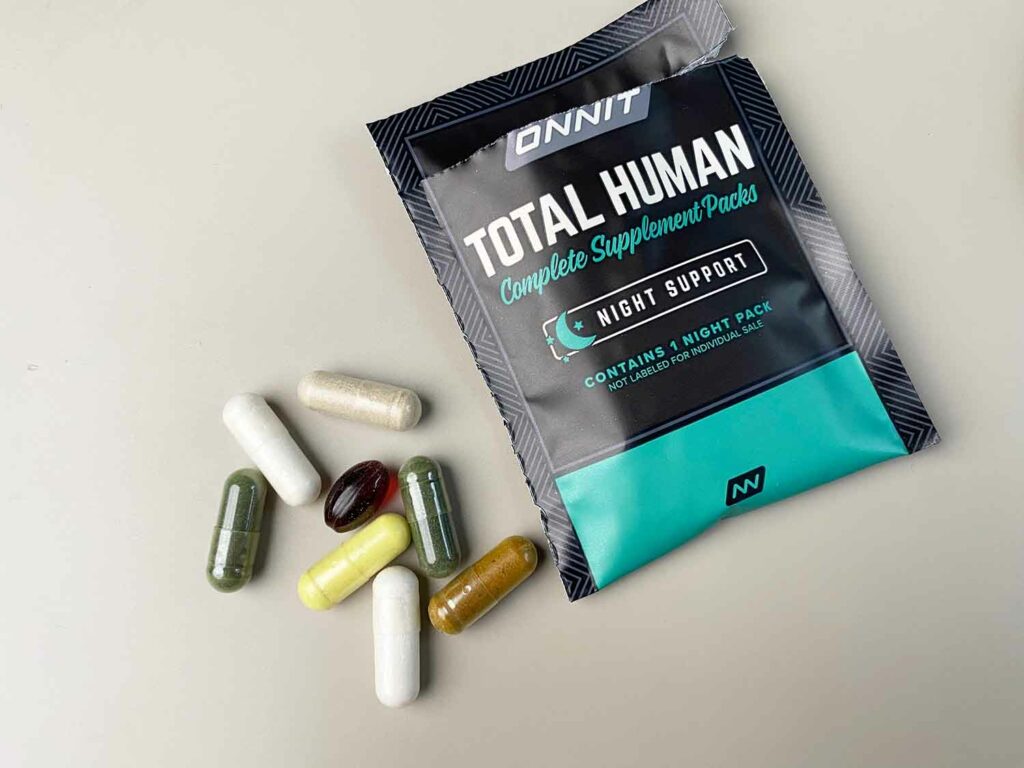 8 capsules again:
New Mood – Mood improving plant extracts
ViruTech
Shroom Tech Immune
Key Minerals (2 capsules)
Spirulina & Chlorella (2 capsules)
Krill Oil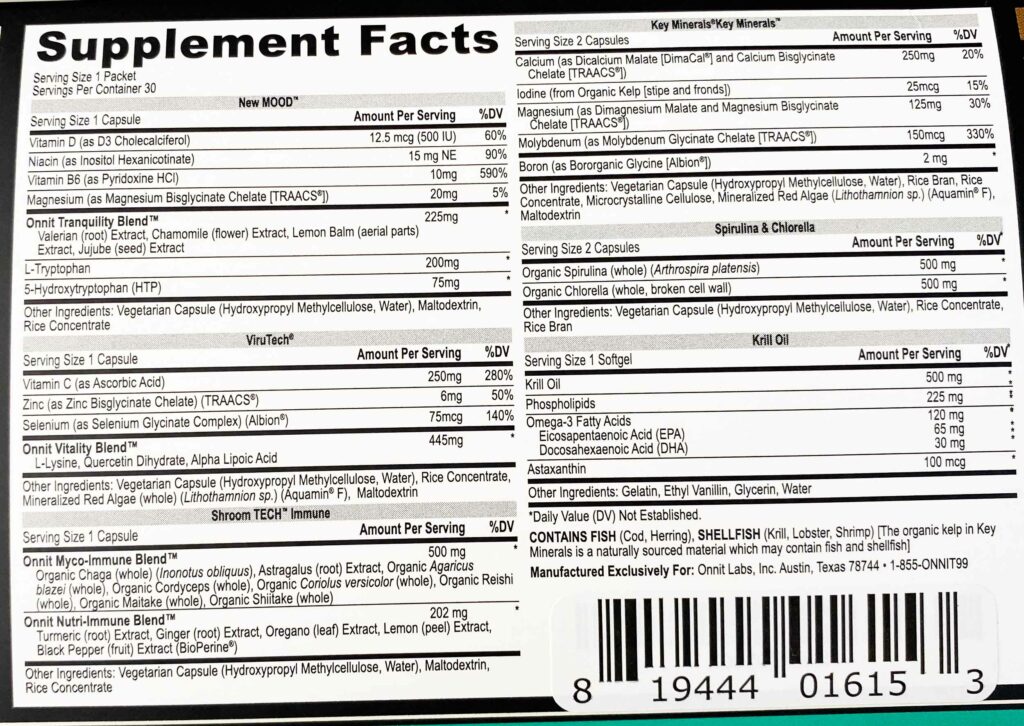 Benefits
I personally have been using Total Human for more than a month and have noticed a difference in my energy levels, and overall sense of well-being.
It's very convenient to have many different supplements in one pack. The packaging makes it also very convenient to take when traveling and saves time.
On the flip-side this convenient packaging is also an environmental downside due 60 pieces of trash per month.
The One Flaw
The biggest downside of Total Human is the included Alpha Brain.
In the "Day" pouch you will find one Alpha Brain capsule. Oddly they included only one capsule which is half the daily recommended dosage of a stand-alone Alpha Brain.
I threw away this Alpha Brain capsule. I prefer more effective nootropic stacks with less side-effects. Here is my past review of Alpha Brain.
If you are wondering which capsule is Alpha Brain: You can identify it by color: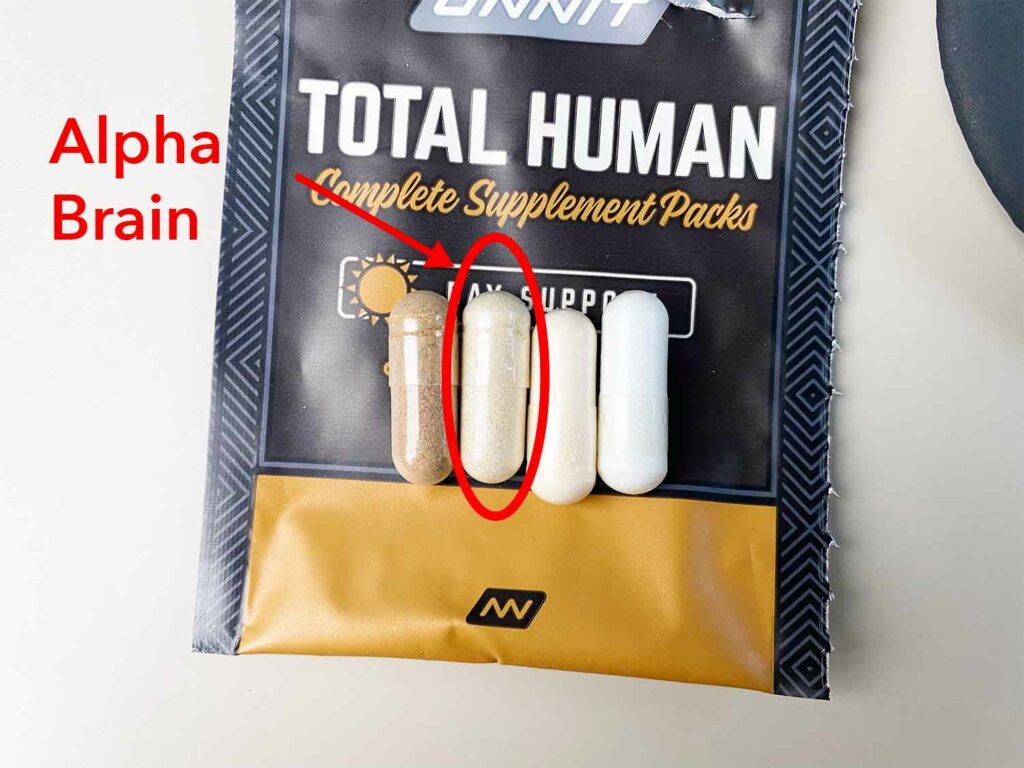 From the 4 white to brownish pills, Alpha Brain is the second darkest. See my photo above.
Conclusion
Total Human includes a lot of useful supplements in convenient daily packets. I generally recommend Total Human.
My two wishes to improve the bundle are:
1) Replace Alpha Brain with Alpha Brain Black Label and
2) Use biodegradable packets.
Coupon
If you want to try out Onnit's Total Human, head over to www.onnit.com and use my Onnit coupon code MAXHUG at checkout for an extra 10% off your order.
Try Total Human For Free
Onnit gave me this special offer for my readers: You can get a 7-day package for free. Just pay shipping.
Click here for the 7-day Total Human free trial offer.