NoordCode is a relatively new supplement brand from The Netherlands and available at one of my favorite European Biohacking Stores: LiveHelfi. In this article I wanna share my experience with NoordCode products.
Is NoordCode Trustworthy?
Unfortunately, the supplement industry is full of scams, untrustworthy companies, and low quality products. 
Trust me.
I've worked for 5+ years in a supplement company myself and have been testing, reviewing and digging deep into all food supplement related topics for several years now.
So one of the most important things to look at when judging a product, is actually looking at the company behind the products.
You are putting something in your body that (hopefully) has a positive effect for you. So really don't skip this part when researching supplements.
So who is behind NoordCode?
NoordCode is a brand developed by biohacker Eduard de Wilde (checkout our interview on YouTube) who is CEO and Founder of LiveHelfi. 
LiveHelfi is a big reseller for many US biohacking/Keto/Paleo products in Europe. It's personally one of my favorite shops to order from. It's usually hard to impossible to get many US supplement products to Europe. LiveHelfi is really scratching an itch here for me.
In a nutshell: NoordCode was created by & for European biohackers to be less dependent on US products and to purchase locally made high quality supplements & foods at fair prices. The products are great to supplement a healthy lifestyle and a Keto or Paleo diet.
My Top 3 NoordCode Products & Reviews
I've tested a dozen NoordCode products but these three are my favorites. These are the ones that stick with me and I regularly use them.
#1 NoordCode Grass-Fed Pure Collagen Review
My #1 favorite food from NoordCode. High quality collagen from French alpine grass-fed cows. It has a great amino acid profile and highly bioavailable protein.
I use this daily in my tea, coffee or cacao together with the MCT creamer. This makes a protein + fat rich high energy morning brew for me.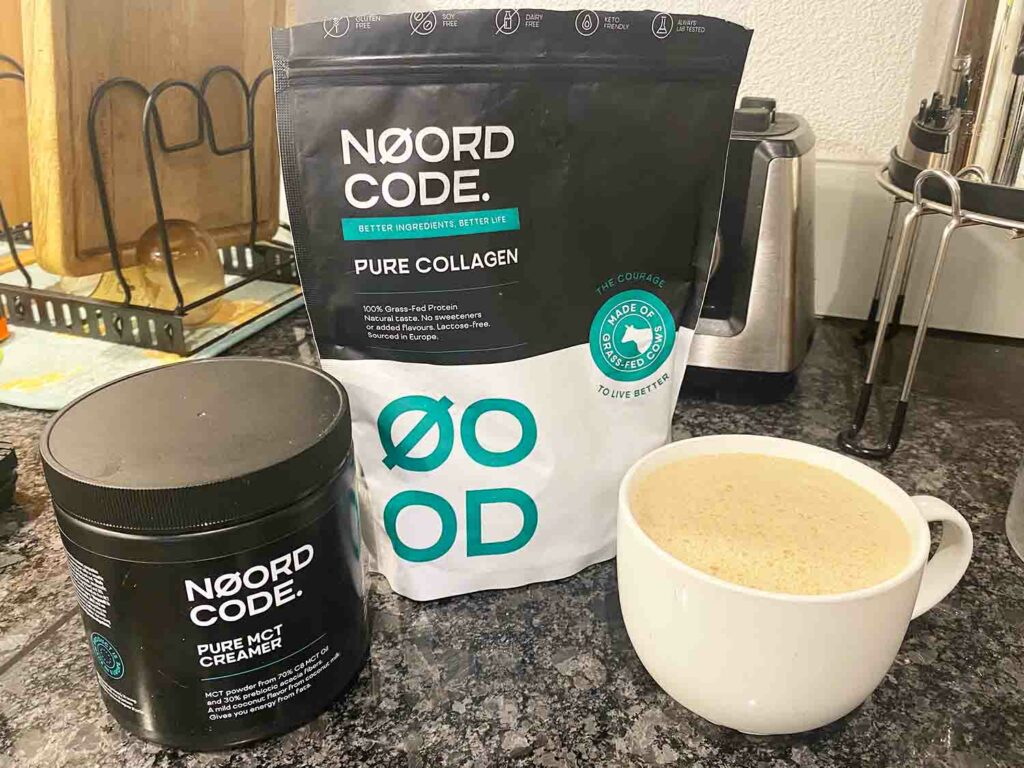 My Magic Morning Brew Recipe:
30 g of grass-fed butter
12 g of NoordCode Grass-Fed Pure Collagen (= 10.8 g of protein)
15 g of NoordCodes MCT creamer (or a squeeze of MCT oil)
300 ml organic coffee from my french press*
Preparation: 1. Brew your coffee. 2. Add all ingredients to a blender & blend. 3. Enjoy.
*I love FourSigmatic Mushroom Coffee with only 50% caffeine – Also available at LiveHelfi but the NoordCode coffee is also great if you have a grinder and like full caffeine.
Not into coffee? You can also replace the coffee with a chai tea or raw cacao blend + almond milk.
This is enough food and energy (I am in ketosis most days) for me for a full workout and one meal around noon or later.
#2 NoordCode Pure MCT Creamer Review
I mentioned this product earlier. This MCT creamer is a great addition in any biohacking / keto / "bulletproof" coffee and works perfectly with other hot drinks as well. Apparently you can even use it for cooking.
The flavor is very subtle and slightly sweet and blends in well into a coffee without being dominant. A 15 g portion includes 10 g of healthy fats and only 0.5 g sugar (from coconuts).
The NoordCode MCT Creamer is pretty "pure" as the name suggests. Ingredients:
MCT oil powder made from 70% MCT oil (medium-chain triglycerides from coconut and 30% acacia fibers)
coconut milk powder
NoordCode Mag Six Magnesium Review
It seems that most people are magnesium deficient and there are multiple different forms of magnesium out there. Most supplements only include one or two forms of magnesium.
NoordCode Mag Six combines six different forms of magnesium in one product.
This product is also a great alternative to BiOptimizers Magnesium Breakthrough at a 40% lower price. 
Downsides of Mag Six:
Fillers*
Only 100 mg magnesium per capsule
*Anti-clumping agents (silica, vegetarian magnesium stearate). To be fair: It is hard to avoid fillers in most supplements and Magnesium Breakthrough includes them as well.
Overall I still think it's a very useful and great value for money magnesium blend compared to all other magnesium products.
NoordCode & LiveHelfi Coupon
Get 5% off (that's the biggest discount available at the moment) on NoordCode and other products at LiveHelfi.
Enter coupon code MAXHUG at checkout.