Last updated: Sep 11, 2022
I have been investing with the Inyova impact investing platform since April 2020. Here is my review. Make sure to check out my fully disclosed performance of my Inyova investments at the end of this article.
In a nutshell
Inyova (previously: Yova) is an impact investing platform, made in Zurich, Switzerland
You can choose from industry sectors that are most important to you, e.g. renewable energies, plant-based foods, circular economy and other topics
It's easy: You send a monthly payment to Inyova and they invest your money according to your personal strategy and values
The fees are between 0.6% and 1.2% p.a. of your portfolio value
I think Inyova is great for off-hands investing and creating positive impact while also generating long-term profits
The first 18 months have been very successful for me
Get 60 CHF/EUR when you signup and use my friends code 59385
Impact Investing
Do you want to make your money work for you and create a positive impact in the world? With "impact investing" you can combine financial gains and sustainable impact.
I have been investing as a private investor for 5 years. I am invested in different asset classes and tried out multiple investment opportunities including: Stocks (actively traded), ETFs, direct startup fundings, P2P lending, and Inyova.
Inyova
Inyova is an impact investing platform from Zurich, Switzerland. Inyova offers you an easy way to invest money in sustainable and impact-focused assets.
Answer some questions about your risk profile and choose the impact topics that are most important to you.
You can choose from "Handprint" topics (What is the company working on?) and "Footprint" topics (How does a company work?). You can also exclude companies that have interests in certain industries such as meat, nuclear, or tobacco.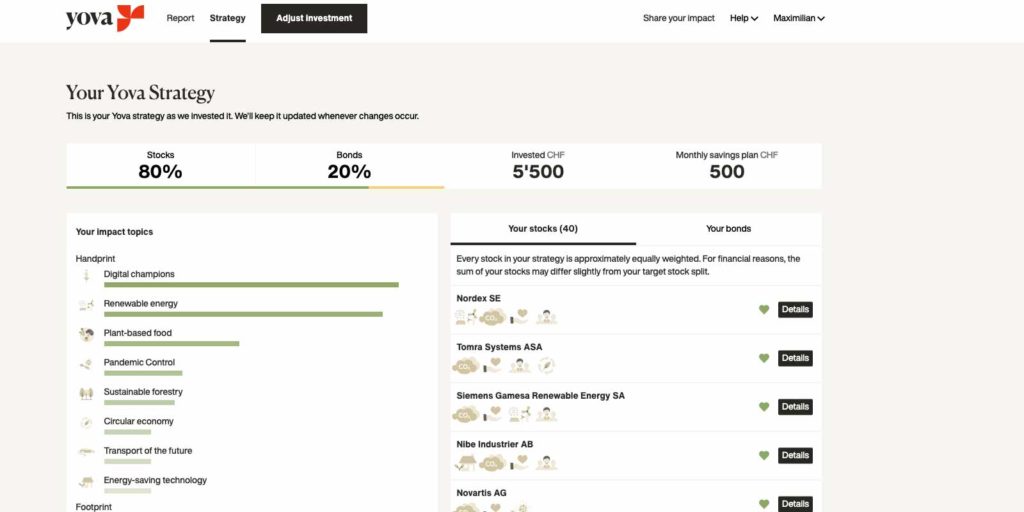 Handprint
Inyova offers you the choice between 12 topics for a better world:
Renewable Energy
Energy-Saving Technology
Clean Water
Circular Economy
Sustainable Forestry
Plant-Based Food
Access to Medicine
Disease Eradication
Digital Champions
Transport of the Future
Swiss Champions
Advancing Education
Footprint
Inyova defines the "Foodprint" as 4 pillars of good business practice:
Low Carbon Emissions
Gender Equality
Fair Pay
Human Rights
My experience with Inyova
Impact Investing Strategy
I chose my impact topics and created my personal investment strategy with Inyova. I was a bit confused that Inyova recommended to put 20% of my investments in government bonds.
Government bonds have been generating close to zero returns in the last years if you include inflation. That's why I found them very unattractive compared to other investment opportunities and never invested in them before. You can exclude them completely from your Inyova strategy if you want to.
Inyova Support
I sent a message with my question on government bonds to the Inyova support. Within a few hours I got a very friendly and professional answer.
We recommend government bonds only as a small part of your investment for risk diversification, also because the government bonds often perform better when it looks bad on the stock markets. On average, we expect a return of 1.5-2% per year on government bonds and about 7% on stocks.

By the way, the government bonds are held via government bond ETFs. This increases diversification and risk spreading at very low fees.

From the Inyova support team (translated from German for my english readers)
In the meantime I also had some contact with the support team and found them always very responsive and professional.
Digital Platform
One thing I really like about Inyova: They are 100% digital. I could sign my contract and get started with a video call and a digital signature.
Inyova Pros
Easy and passive impact investing
No experience in trading necessary
Manageable risk levels with investment horizons of more than 10 years
Personal values are reflected in the investment strategy
Inyova Cons
The advantages can also be disadvantages depending on the type of investor.
No direct management of the portfolio and therefore no market timing possible

This means e.g. if I want to buy the Beyond Meat share at 50 USD during the Corona crisis, I cannot actively manage this.

By default a black box with little insight into the actual portfolio and the shares held*.
*On request you can get access to a live dashboard of SAXO Bank with which you can see the individual shares and live market values. More on this below.
Fees
I find the fees of 1.2% (from 2,000 CHF assets) to 0.6% p.a. (from 500,000 CHF assets) are fair. Here is a comparison of Inyova's fees compared to a typical direct bank custody account.
A = Direct Bank Portfolio in Germany, B = Direct Bank Portfolio in Switzerland
A
B
Inyova
Order fee (Cost per share
purchase or sale)
€ 9.90
CHF 9
€/CHF 0
Annual custody fee
€ 0
CHF 60
€/CHF 0
Asset management p.a.
€ 0
CHF 0
0,6% – 1,2%
Example calculation:
5 share purchases p.m.
8,000 CHF/EUR Assets
Cost p.a.
€ 9.90 x 5 x 12
= € 594

CHF 9.00 x 5 x 12
= CHF 540 + CHF 60 fee
= CHF 600
8,000 CHF * 1,2%
= CHF 96
Example calculation
50,000 CHF / EUR Assets
€ 9.90 x 5 x 12
= € 594
CHF 9,00 x 5 x 12
= CHF 540+ CHF 60 fee
= CHF 600
50,000 CHF * 1,0%
= CHF 500
Comparing fees in detail is difficult because there are many variables: Investment duration, price gain, stock purchase vs. ETF savings plan, assets. With an active portfolio, I only pay the order fee once, no matter how long I hold the share or how much value gain it generates.
My Inyova Strategy
I have deposited 2,000 Swiss Francs (approx. 1,900 Euro as of April 2020) as initial investment and transfer 500 Swiss Francs monthly by standing order.
I switched my strategy from 80% stocks & 20% bonds to 100% stocks. Currently my portfolio holds 36 stocks.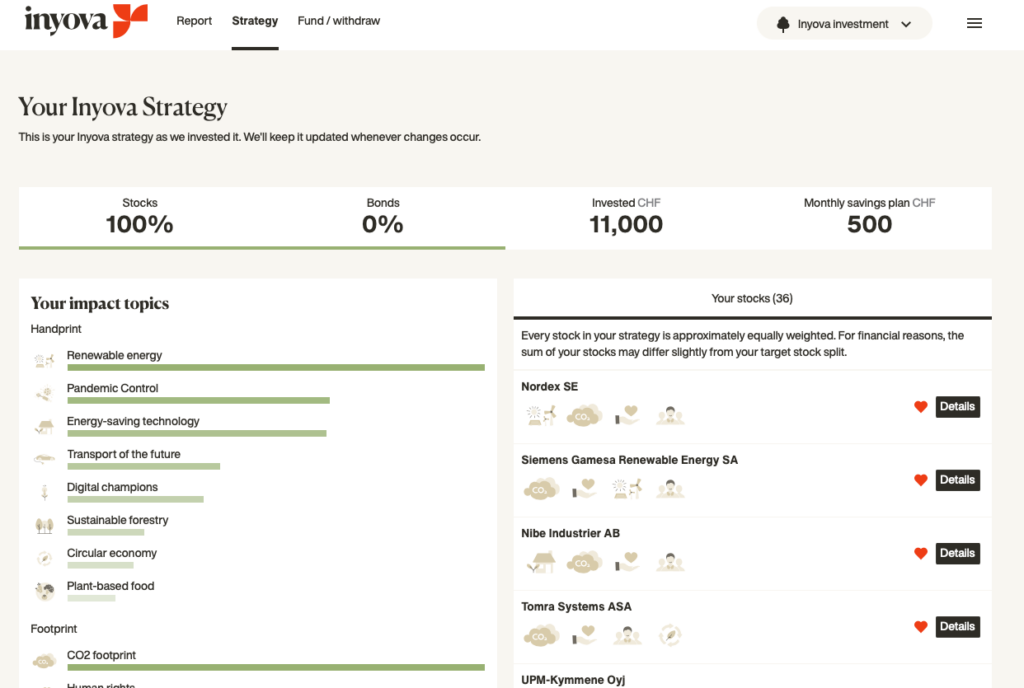 SAXO Trader Account
Inyova is the "investment manager" but not a bank. That's why you will get a trader account with SAXO bank. Your actual stocks and bonds are held on the SAXO trader account.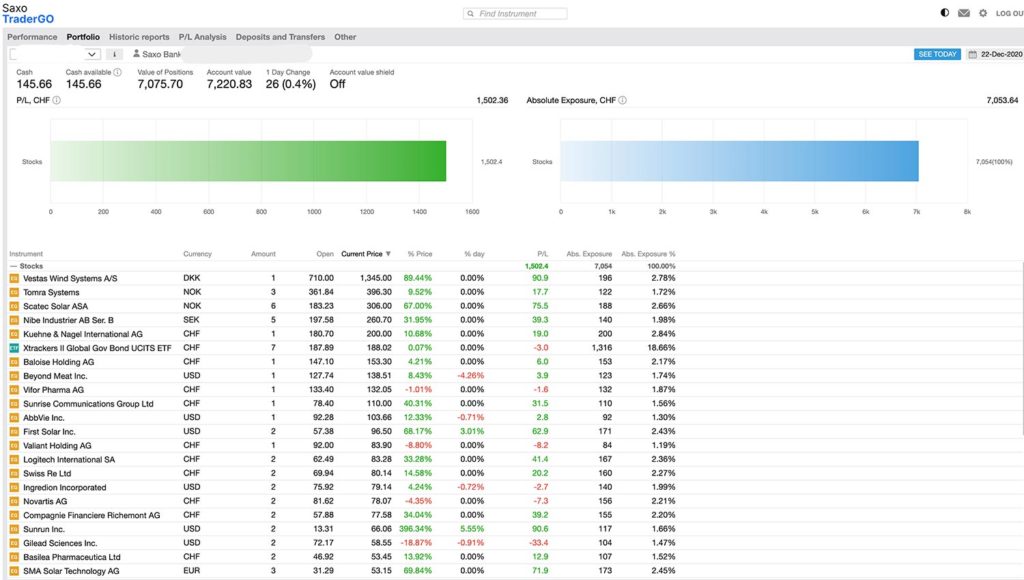 To invest with Inyova you don't need to care about this at all. Usually you will just see your Inyova Dashboard. I am curious and asked to get direct access to my SAXO trader account. Here is a screenshot from my account where you can see which stocks I are "behind" my Inyova investment strategy.
My Inyova Performance Update
Inyova Performance Update from January 8, 2022.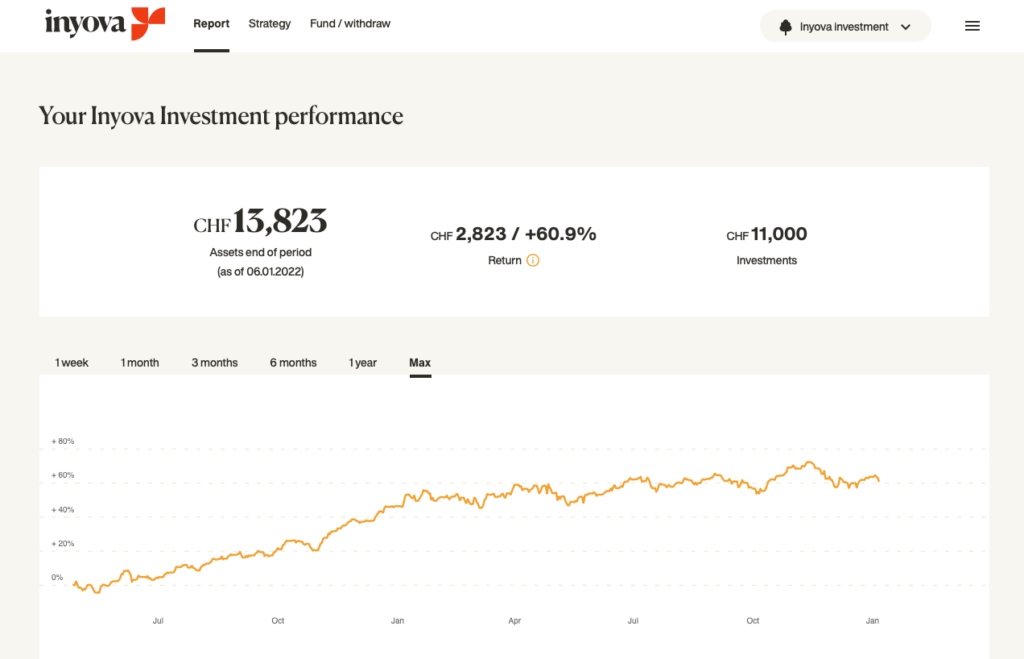 From April 2020 to October 2022, I have invested CHF 11'000 with Inyova. My investments are worth today: CHF 13,823. A gain of CHF 2'823 so far. Inyova displays this as a net performance of +60.9% (time weighted return). In simple terms it is a profit of 25.7% (13,823/11,000).
The year 2020 had a very strong growth curve because the markets crashed in February/March and recovered from there. 2021 was still a year of growth but not as steep as 2020 which is reflected across my investments including Inyova.
Friends Code: Get 60 CHF/EUR & 2 trees planted
Sign up for Inyova and use my friends code 59385 – Inyova will credit your account with 5 CHF for every month invested in the first 12 months (= up to 60 CHF/EUR) plus Inyova will plant 2 trees.
You can also use my friends link for the special offer: Inyova Germany / Inyova Switzerland.
Disclaimer: This is no financial advice and just represents my own experience, performance, and views. Everyones financial performance will be different.